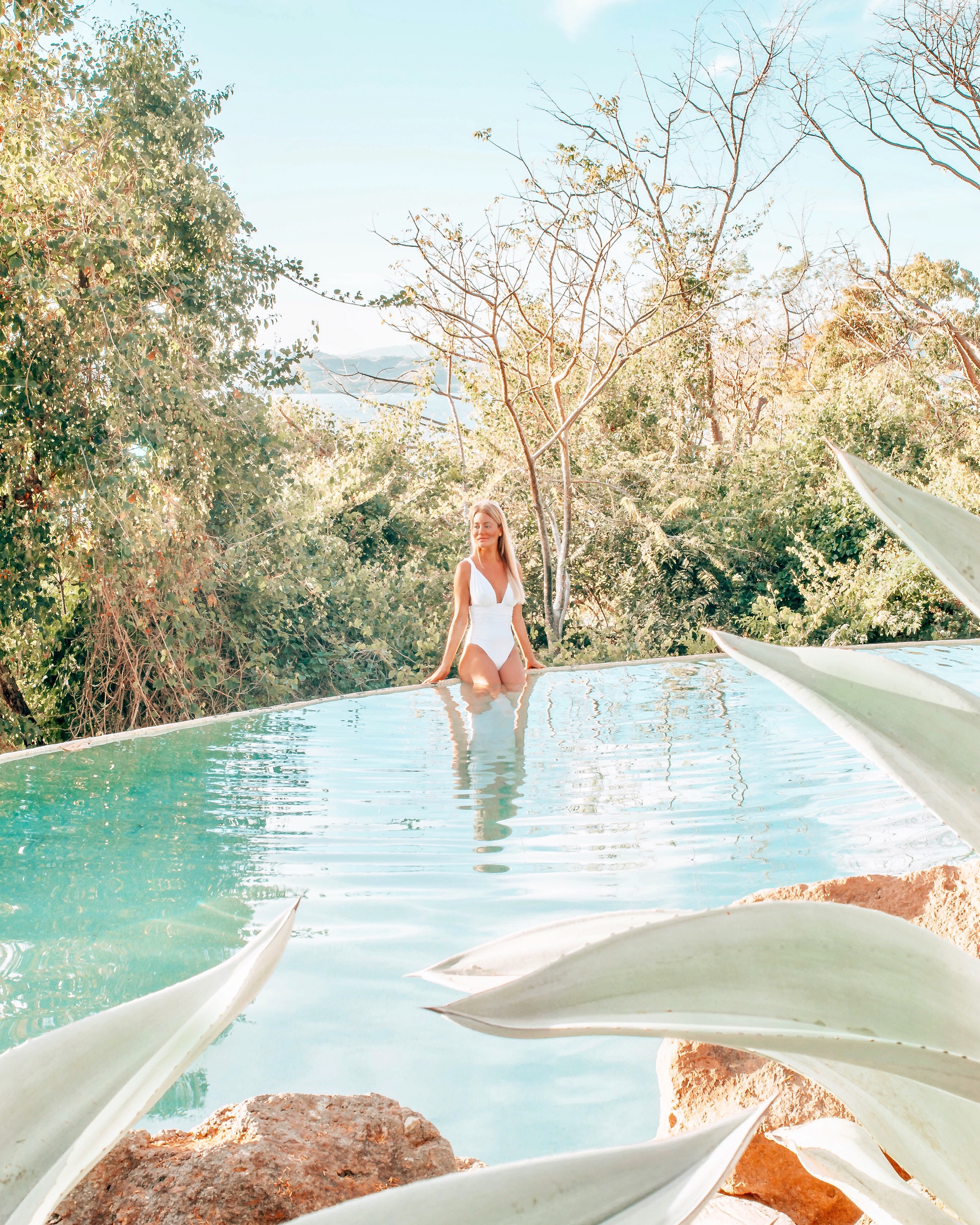 Andaz Costa Rica Resort at Papagayo Peninsula
Located on the pristine coast of Costa Rica's Guanacaste region, the Andaz Papagayo is must-visit resort in the stunning Papagayo Peninsula. Nestled into the lush cliffside, the resort architecture is reminiscent of an eco-luxe treehouse overlooking the calm waters of the Bay.
My stay with Andaz Costa Rica was my first introduction to the Hyatt's boutique-luxury brand. I was immediately enamoured by their laid-back luxury style and eco-chic appeal. Upon arrival we were personally greeted into their open-air lobby and blessed with the breathtaking views of the bay.
Ranked #1 for hotels in Papagayo on TripAdvisor, this stunning property definitely won't disappoint. Their rooms are outstanding. I stayed in the Andaz Suite which felt like my very own treehouse. The suite was very spacious with a living area, huge bathroom and the largest bed I have ever slept on. We also had a wrap around balcony providing incredible views of the surrounding forestry and bay below. (See a tour of the room here)
All About the Resort
Built in 2013, you would never guess this property was 6 years old. Everything is in tiptop shape and looks brand new. The resort property is very well manicured and everything has been kept in incredible condition.
Although the property is sprawling, there are only 153 rooms giving it a very intimate resort feel. The resort is jam packed with amenities and many areas to relax for the day in paradise. Whether you are traveling as friends, couples or as a family, the Andaz offers a customized stay that feels perfectly catered to you and your vacation needs.
On the resort, there are 4 pools, access to 3 beaches, a wonderful spa and an off-site private beach house. There are daily activities including yoga, water-sports and a selection of different classes and experiences to keep you busy throughout the day.
If you are the type to meander off the resort, there are plenty of activities to do within the Papagayo peninsula. Whether you're a golfer, biker or hiker, you can enjoy it all without leaving the community. However, if you prefer to travel off the resort, you are only 30-45 minutes away from lively beach towns, zip-lining, waterfalls and nearby volcanos at Rincon de la Vieja.
Lastly, if you are one to appreciate the local wildlife, you will not go without a sighting at the Andaz Costa Rica. Throughout each day we were greeted by cute white-faced monkeys, beautiful birds and iguanas all around the property. I especially loved interacting with the cute baby monkeys on the beach – they were adorable!
Eating at the Andaz
The food options at the Andaz Costa Rica are plentiful and delicious. I felt spoiled with healthy eats during my stay with the freshest fruits and creative nutritious options.
There are 4 restaurants on-site with the option to dine at others throughout the peninsula. The main restaurant serving breakfast, lunch and dinner was Rio Bhongo, set right in the middle of the pool area. The pool was built around the restaurant to symbolize a river streaming along the open-concept dining area.
The next one was a personal favourite, Chao Pescao. Chao Pescao is a cantina-style bar with locally inspired dishes and craft cocktails. The restaurant offers tapas-style dishes ideal for sharing. The menu is vast so you can easily eat here a couple times without having to try the same thing twice.
Their more elegant restaurant on-site is Ostra. Known for having the top ceviche chef in all of Costa Rica, it was definitely the hit. The dishes were all prepared with fresh local seafoods and ingredients and the staff couldn't have been more inviting.
Personalized Service
The personalized service is something very unique to the Andaz brand. Prior to my arrival, I was asked to fill out a short questionnaire on my likes/dislikes. I was impressed that 3 months later this was put to work and I was personally tended to with the things I loved most. Anytime I sat down for dinner, they didn't have to ask before bringing out a bottle of sparkling water (my preference). They also knew other details like my favourite wine, my favourite color and favourite flowers. It felt nice to have a personalized touch all around the resort.
In addition to the personalized service, we also had a very special gesture from the manager from Ostra. My husband, being a coffee aficionado and a lover of Costa Rican beans, was admiring their traditional method of making a cup of coffee. For those that don't know, Costa Rican's make their coffee with a contraption that pours the hot water through a small sack containing the ground beans. This method releases the brew at a slower drip keeping the oils and essence of the coffee better as it enters the cup.
Sure enough, the next day as we were checking out, the manager had purchased one in town as a gift for my husband. He found us and hand-delivered it to him before we left. This has been the kindest gesture we had ever received at any hotel. It certainly created a memory and an impression that will last. My husband has been using his gift daily and thoroughly enjoying his Costa Rican blends.
Until I Return Again…
Overall, I was very impressed with the quality, service and boutique luxury feel at the Andaz Costa Rica. It exceeded my expectations and I admired their dedication to creating a personalize home-away-from-home experience.
Thank you, Andaz Costa Rica! I cannot wait to stay with another Andaz by Hyatt property in the near future!