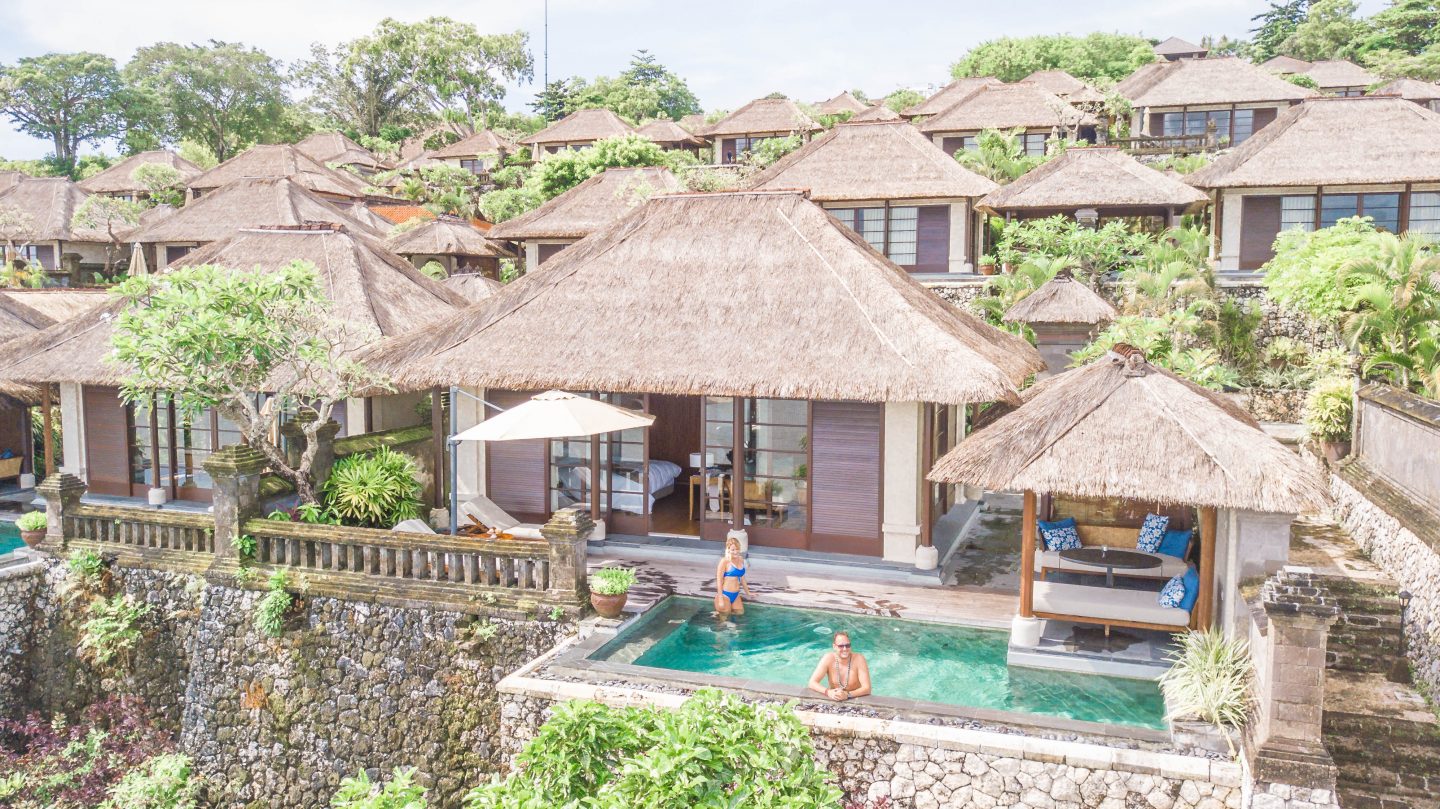 If Bali is calling your name and you are looking for ultimate luxury villa on the island, look no further than Four Seasons Jimbaran Bay. This stunning villa resort features panoramic view over the deep blue azure and a resort that will cater to all senses. However, there is one very BIG problem with staying in a 3000 sqft villa with a private plunge pool, overlooking the most beautiful Bay in Bali. What's that you ask?…you'll never want to leave. No seriously, not like you won't want to leave as in to go home but you would literally rather stay in your villa all day and all night than do anything else on the island just because of how amazing it is. (we literally stayed in the villa for 24 straight hours without leaving on our day of arrival)
This Four Seasons property in south Bali is one of two on the island. Being the first FS property in Bali, it was originally built in 1993 and has since had some modern updates. I stayed in the Premier Ocean Villa perfect for Honeymooners or the ultimate romantic getaway. The villa had a large living area with a huge king bed, living area and double sliding doors out to the deck and to the terrace. Further into the villa was the enormous bathroom with his and her sinks and a bathtub fit for royalty. Exit the bathroom door into your own private oasis with an outdoor shower and lounge area. (See a tour of the villa here)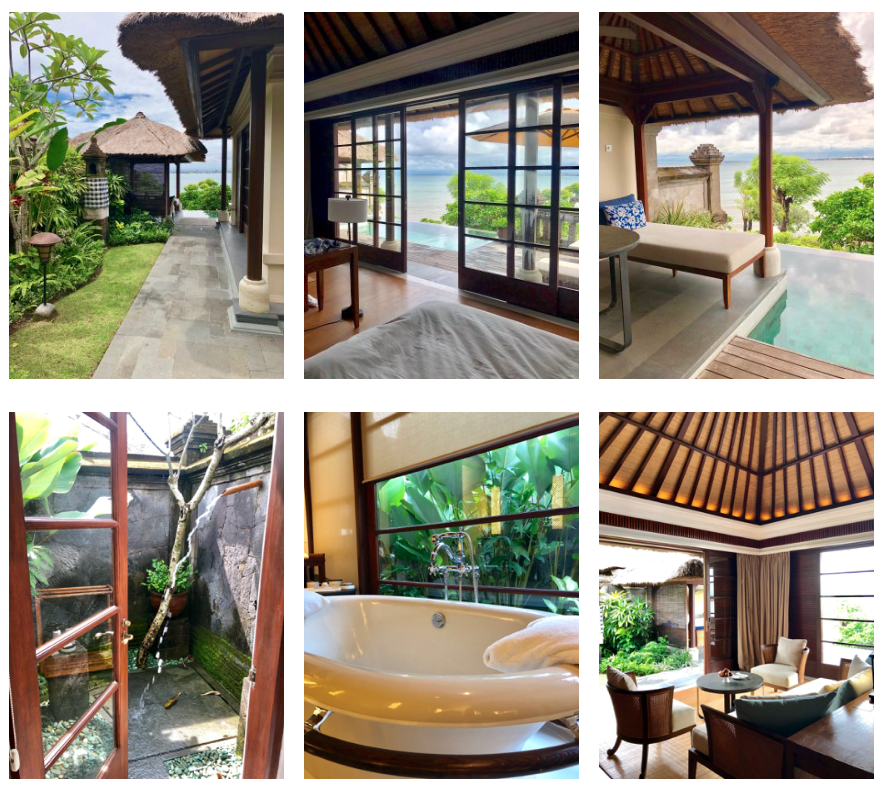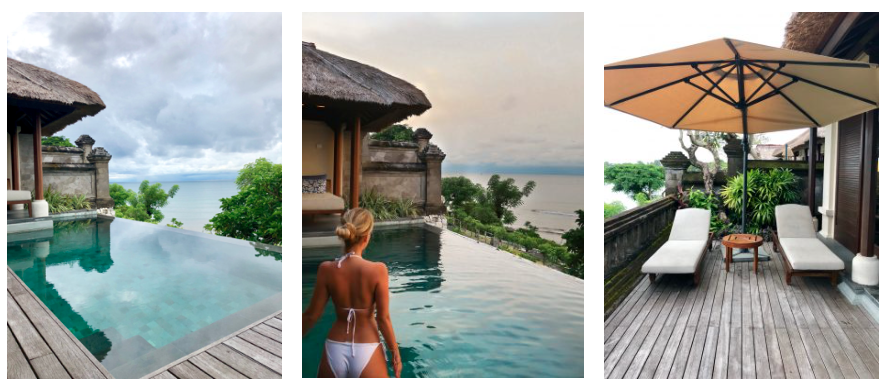 Another amazing perk that comes with the villa is the sunrise/sunset view. While you don't have a direct view to either (more sunset that sunrise), the sky sun beautifully lights up over the bay creating the most stunning reflections imaginable. Pair this with a private dinner on your terrace during sunset and it will make for a moment you will never forget. One morning we were even lucky enough to catch a double rainbow at sunrise after a rainstorm – talk about breathtaking.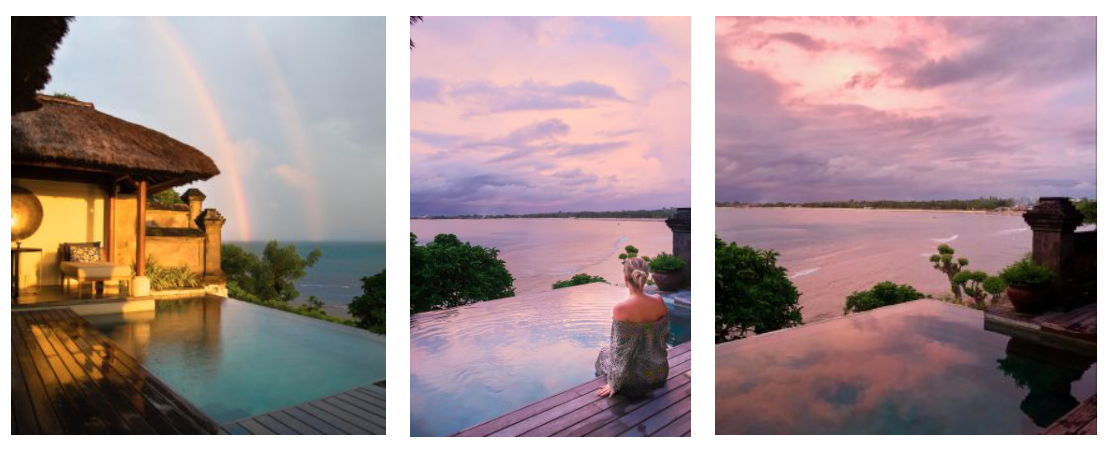 Like all Four Seasons Resorts, this resort is full of amenities and activities to keep you busy during your stay. My favourite was the aqua bicycle! Being a fan of spin, this was like cycling but on water. The experience was not only a great workout but it felt like I was riding the waves in the beautiful blue waters of the bay. In addition to this unique activity, they also had a fully equip gym offering a variety of classes and my favorite, an onsite Balinese Spa. One of the activities I wish I had made time for was the cooking class. With local ingredients sourced from the onsite garden, you learn from a FS chef how to prepare local Balinese dishes so you can take home a taste of the local culture.
There was also a new venue that had just opened on the property prior to our arrival, Sundara Beach Club. The beach club was a nice alternative to hanging out at the resort pool and offered great dining options for lunch and dinner. It features an elevated infinity pool with daybeds and lounge chairs overlooking the vast Bay. You can also come at sun down for the ultimate sunset views.
With all the incredible options onsite, it was truly difficult to leave the resort. However when you do decide to venture away from the hotel, you can walk up the beach about 2 minutes to the best seafood in all of Bali in Jimbaran Bay. This area of the island is best known for their fresh seafood and incredible sunset dining experience. Who wouldn't want to watch the sunset while dining on some fresh lobster caught right in the Bay and many tours are offered on the island to bring tourists to do just that. So if you are in the mood for something more low-key and traditional, make sure to check out this area as there are several dining options sprawled across the beach, each with a BBQ fish feature of the night. The fish/seafood is grilled over a wood fire and the flavours are to die for, pair this with some local beach entertainment and you'll enjoy the total Balinese beach experience!
Overall I would highly recommend staying at Four Seasons Jimbaran Bay in Bali. I had a wonderful time and thoroughly enjoyed the chill vibes and amazing cuisine on this area of the island. Just make sure to get out and explore, unless of course you are looking for the perfect place to fully retreat and never leave – this is your spot.
Thank you FS for another wonderful stay for the books!