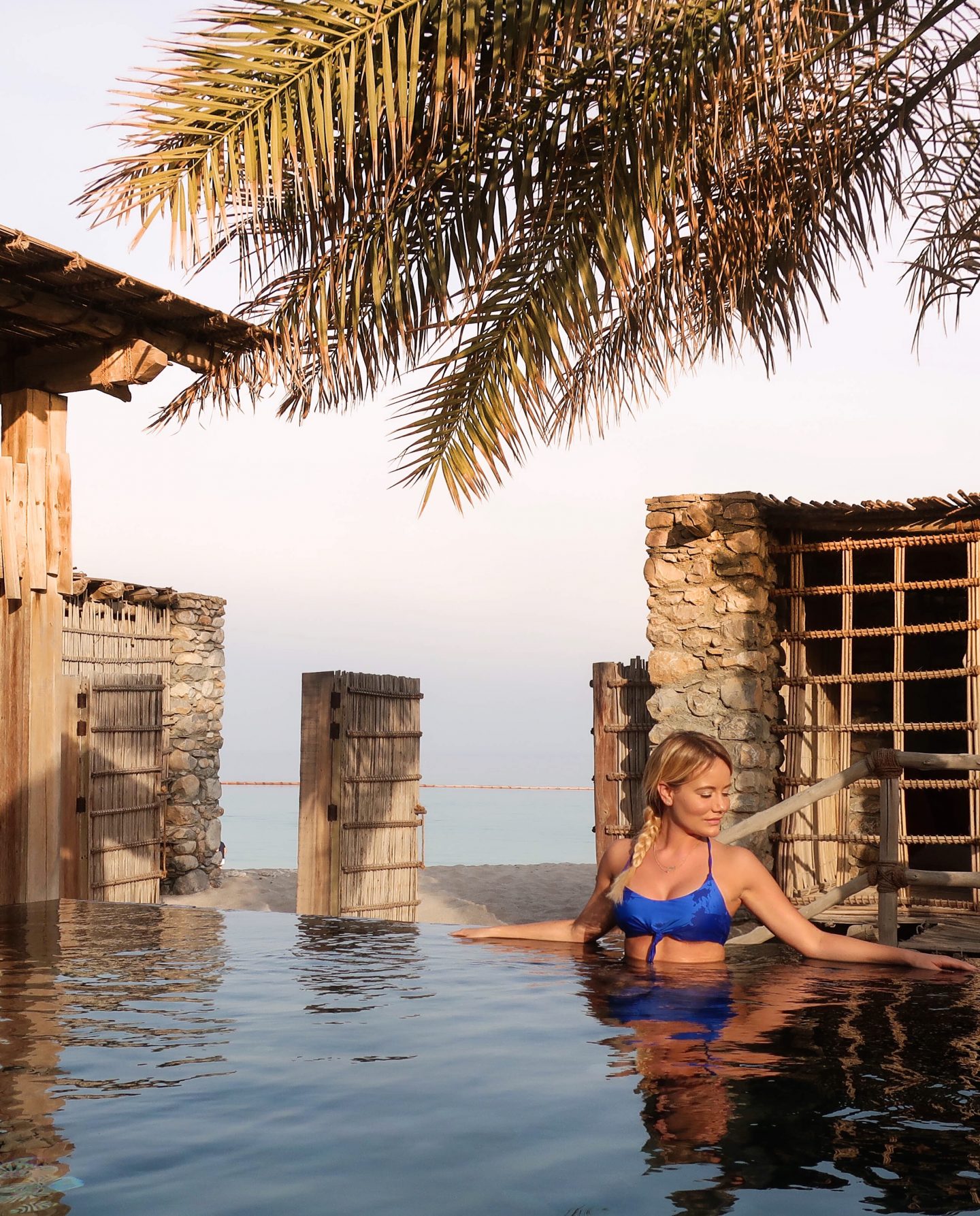 If you are like me and desire vacations to exotic destinations in the most remote areas of the world, look no further than Six Senses Zighy Bay in Oman. After coming across this resort on my first trip to the Middle East in 2016, I made a priority to cross it off my bucket list and dreamt of the day I would stay at this remote desert oasis in Zighy Bay. Let me tell you, it was a absolute dream come true! With pristine turquoise waters against a golden mountain backdrop you will feel like you are in another world relaxing under the warm desert sun in this perfect paradise.
But wait, how do I get to this perfect paradise in this remote area of the world? Good thing you asked. Although this hidden oasis is located in Oman, the best way to travel here is via Dubai, UAE. Once you reach Dubai, Zighy Bay is a short and scenic 2 hour drive through the remote desert areas of Dubai continuing through to the coast Oman. On this drive you will pass by small desert villages and see many wild camel throughout the baron land along the way. Once you reach the Omani border, it will be another hour continued through a small town and remote areas of Oman before reaching your final destination, You will fascinated as you travel through the beautiful countryside of Oman and watch the sprawling desert landscape turn into a unique and rocky terrain seeing wildlife all along the way.
As you begin to approach this stunning resort, you drive up a super steep hill offering beautiful views the further you climb finally revealing the hidden resort on the other side. Once you reach the top you are welcomed with your first look at Zighy Bay and the Gulf of Oman – what a breathtaking view it was! Upon arrival to the property we were warmly welcomed by the local Omani staff and offered a refreshing yogurt drink with some fresh dates and dried apricot, such a nice treat after our journey. We were introduced to our personal butler, an incredibly friendly and warm gentleman who escorted us and our luggage to our UNBELIEVABLE ocean front villa. (full villa tour on my Instagram highlights here!)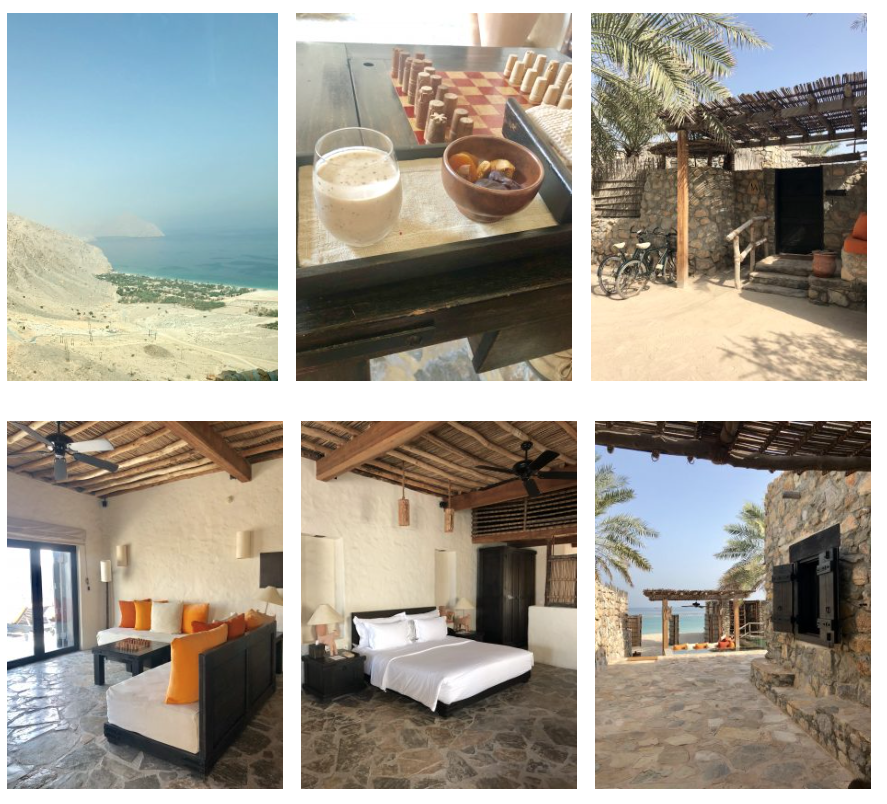 Hello VILLA 18! This villa was unimaginable. With a total sprawling area of 2500+ sq. ft. the Omani-Style interior featured a beautifully open concept living space with a sectioned bedroom area and a large bathroom including a private outdoor shower. Enter the outdoor space and you have a stunning private infinity pool, a large sun deck for lounging and outdoor dining and direct beach access. After a quick tour around the humongous villa, we immediately changed into our bathing suits and jumped into our amazing pool to enjoy the final hours of the day.
Before sundown we wanted to do a tour of the property and acquaint ourselves with the resort pools, amenities and restaurants. The resort is quite vast, with almost 80 villas, and was running at full capacity during our stay. Because of the vast layout and several lounge areas and pools across the property, we wouldn't have guesses it was completely full. There are 2 very large pools on the property, 1 in the main area and another gorgeous saltwater pool closer to the beach. They have a sprawling beach area with plenty of beach chairs, volleyball nets and a beach bar. There was also a cool outdoor gym with several climbing walls and obstacles cleverly called the "Jungle Gym".
There were several dining options including a beach bar open for lunch and dinner and several restaurants in the main area of the resort – . Our favourite being the Spice Market which features local Arabic dishes. You definitely cannot go wrong with Middle Eastern food! In addition to the selections in the main area of the resort, they also had a fine dining restaurant on the mountaintop called Sense on the Edge where you can enjoy a special and memorable dinner overlooking the beautiful coast. Following an amazing dinner at the Spice Market on our first evening, we headed over to the outdoor movie set up where they set up a screen and comfy beach chairs to enjoy a movie under the stars.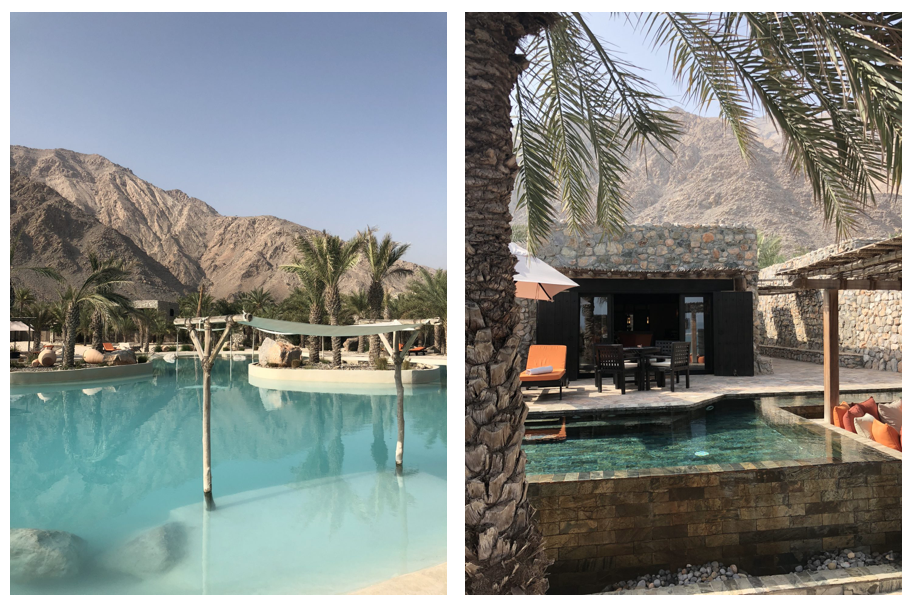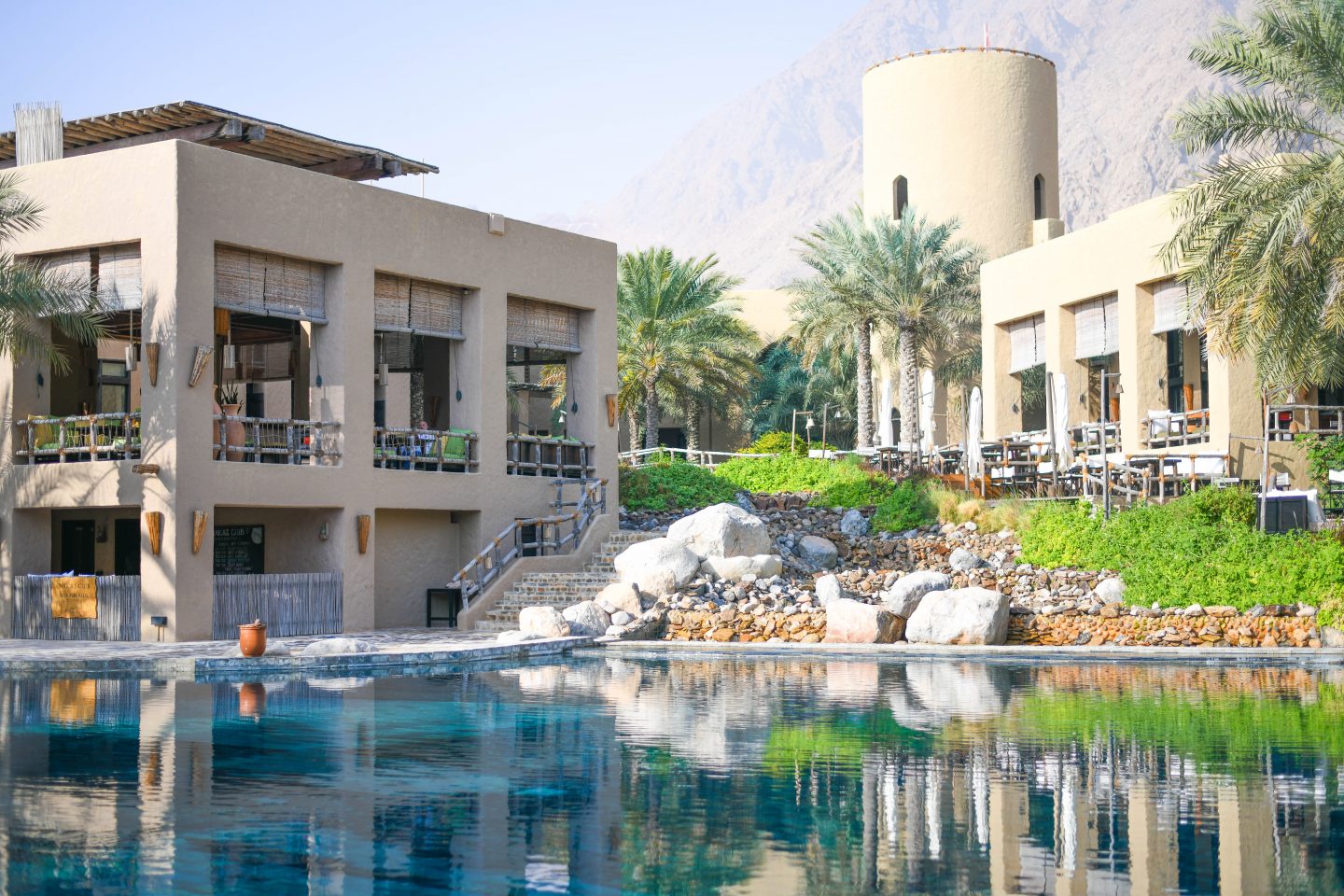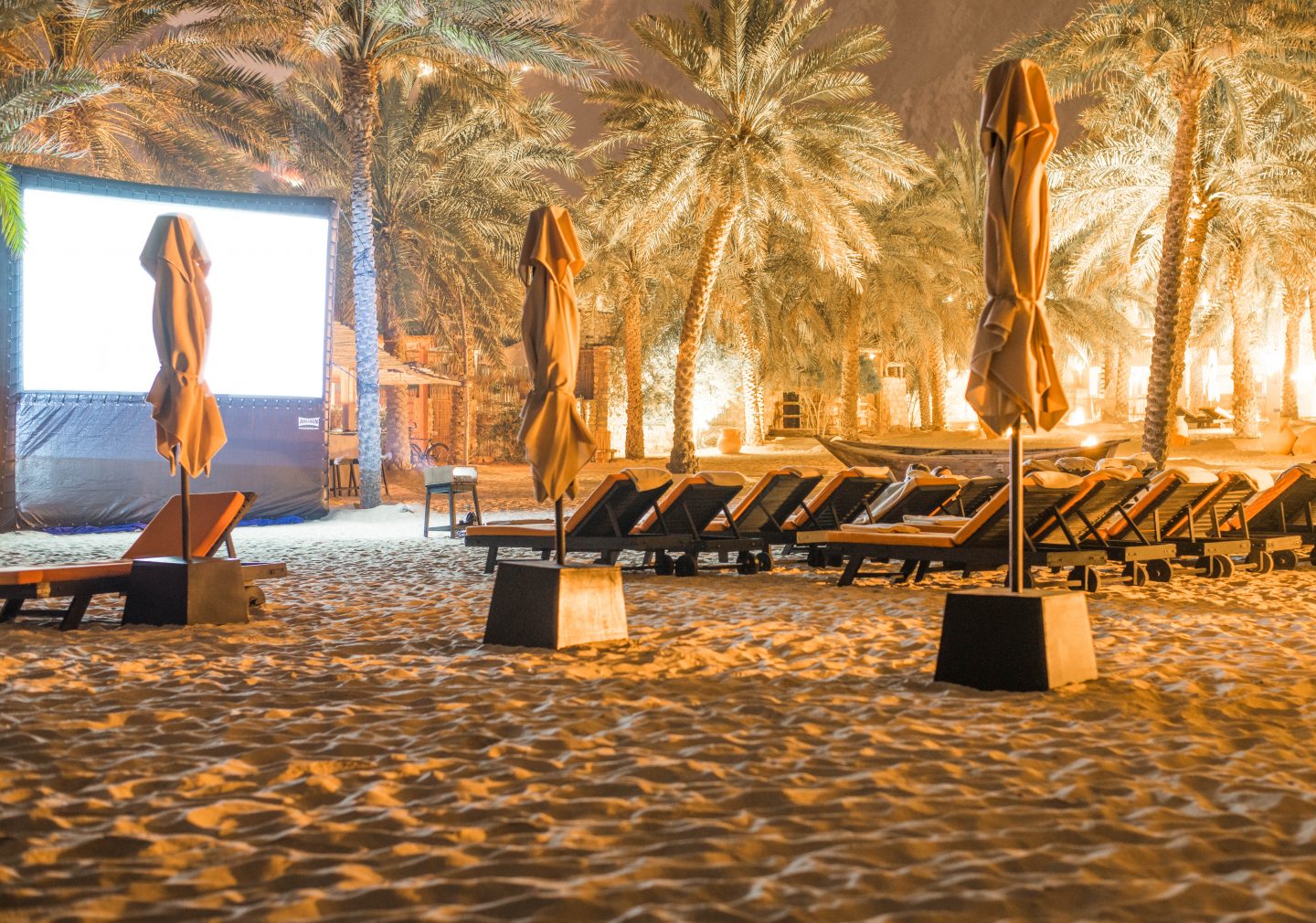 We spent a total of 3 nights at this amazing paradise, which at the time I wish we had booked it for longer but in the end it ended up being the perfect amount of time. Throughout our almost 4 full days, we were able to get in enough relaxation and fully enjoy everything the resort had to offer. We woke up at the crack of dawn each morning to enjoy the stunning sunrise right in front of our beachfront villa before heading to the incredible breakfast spread at the Spice Market. We would then mosey around deciding whether we wanted to either participate in the daily yoga offered or grab a paddle board to get out in the water. Each day we spent some time enjoying both the resort and our villa and the days seemed impossibly endless under the desert sun.
We usually always book a spa treatment in most places we stay so there was no exception here. We went for a couples massage after attending a Yoga Nidra class (aka. sleeping yoga where an instructor leads you into a meditation inducing a blissful waking sleep – a MUST) and the total experience was unbelievable – talk about ultimate relaxation.
Being my very first experience at a Six Senses property, it definitely did not disappoint. I have to say, this was probably one of my most memorable and favourite vacations to date. I think the luxury and wellness experience staying at a Six Senses paired with the most unique and stunning landscape with perfect weather made it second to none. My husband and I both agreed that this is a resort we will definitely be returning to again soon but next up on Six Senses bucket list: Seychelles
Thank you Six Senses Zighy Bay for an incredible stay and memorable visit to Oman.