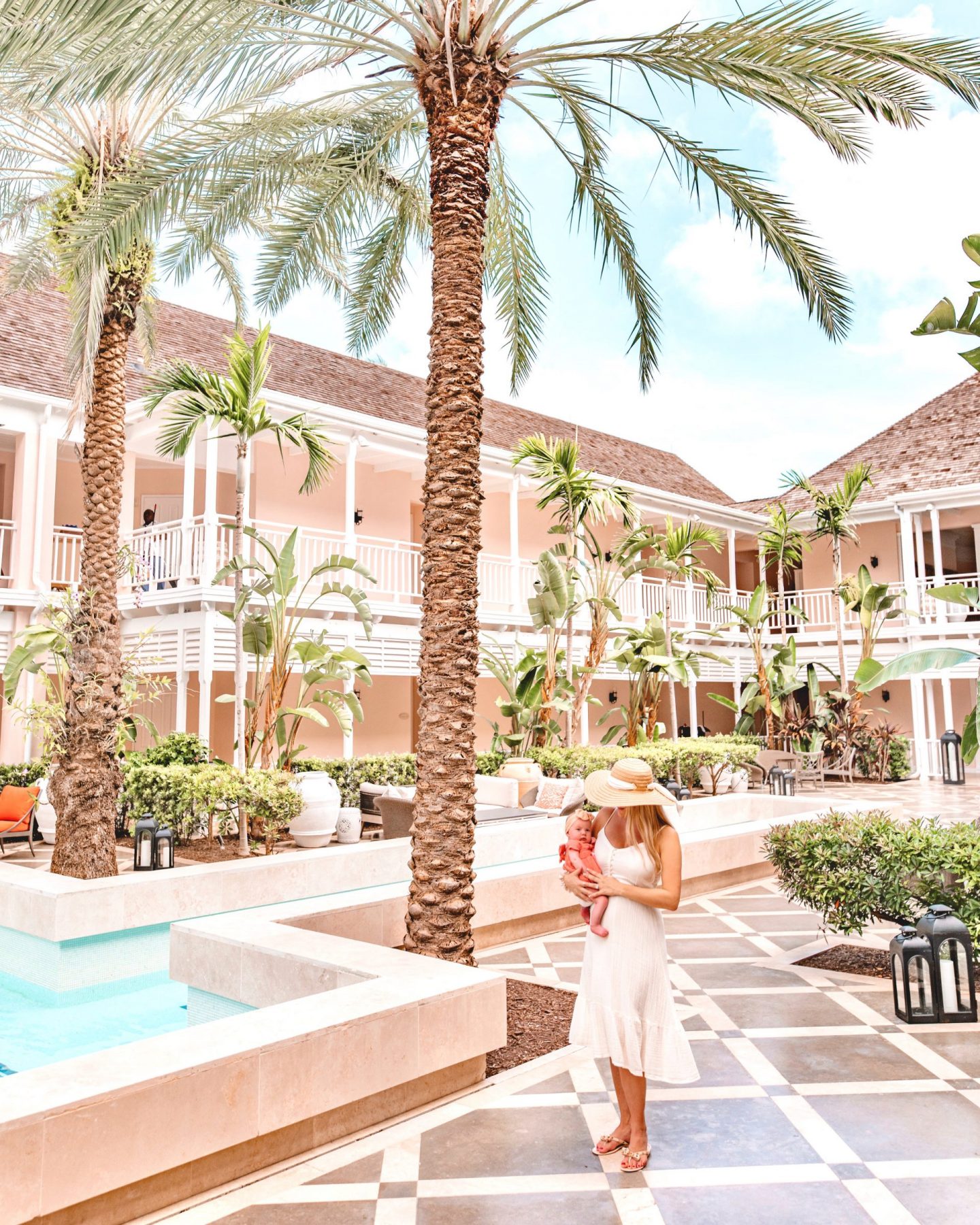 Traveling With an Infant
So I will begin by saying, I am by no means an expert on this topic. However, I did travel for the first time with my 3 month old infant and I'm happy to report, it went extremely well! So much so that I am booking several more trips while she's young to take advantage of the ease of traveling at such a young age. We traveled to the Bahamas for 6 nights and I would highly recommend it to anyone with a baby.
I thought it might be good to share my tips in case you are considering or planning to travel with your infant. So here it is!
*none of the items mentioned below are sponsored. They are 100% based on personal preference
Choosing a Destination
My husband and I went back and forth on this but luckily we agreed on several key things. The destination had to be a relatively short flight, have good healthcare, sunny and warm and lastly the hotel had to be family friendly but NOT family oriented (sorry, Beaches).
We each came up with a pretty solid list of options and at the end of the day we chose the Bahamas.
Other destinations from out list included California, Costa Rica, Mexico and Turks and Caicos (all of which we still plan to visit while she is young)
Packing
This part was slightly tricker than I expected…
How many diapers should I bring? Should I bring toys? What about outfits? What about the car seat? I didn't know the answers but I swung it and thankfully it worked out.
I ended up packing 6 diapers per day plus a buffer of 10 extra for just-in-case situations. I also packed two full packs of wipes and a small tube of diaper cream for the carry on.
Since winter was approaching at home, the summer clothes I had no longer fit for my growing baby. She definitely needed a couple more outfits for some time in the sun.
I perused the typical baby stores and fortunately 3 month summer clothes were on sale (since it was end of season). I was able to buy a few rompers and had some dresses on hand that still fit. Overall, I ended up packing 1 outfit per day, plus 3 extras, along with 8 sleepers for night time.
My goal was to be very minimal on this for the purpose of space. I brought a couple of her favourite items to keep her entertained. I did not pack the play gym but I did pack a travel mobile and a couple of rattles. They seemed to do the trick.
This one was tricky. For my primary stroller, I own the Bugaboo Fox. Its pretty large and clunky and with its hefty price tag it wasn't something I wanted to have thrown around under the plane after gate check. A couple days before we were scheduled to leave, we decided we didn't want to bring the Bugaboo and wanted to find a versatile (and somewhat more inexpensive) travel stroller that we could not only use for infants but also as our daughter gets older too.
We looked at several options and decided to get the UPPAbaby Minu. This stroller has an attachment for any car seat and can be used from birth to 50 lbs (BINGO!). It is super light weight at 14 lbs and comes with a backpack to carry it in. It also folds down incredibly easily and it pretty sturdy considering it's light weight. I would definitely recommend this travel stroller for anyone.
Now the car seat…we had the option to not bring one as the hotel could provide one for the duration of our stay. That being said, we brought our own. Maybe in the future, we will use the hotel provided car seat but since our car seat would attach on the stroller, we decided to bring it. Our Maxi Cosi Mico Max 30 usually comes with a base for the car but we were able to use it with ease without it. We felt safe having our own and we used it several times on car rides during our stay. We are so glad we bought it
Additional items:

a sunhat, definitely a necessity for the little one. I got mine from BuyBuyBaby which seems to sell them year round
muslin swaddles (Aden + Anais are my favorite). I used these over the canopy to shade the stroller when in direct sunlight
reusable swim diaper
sunglasses (mostly for fun)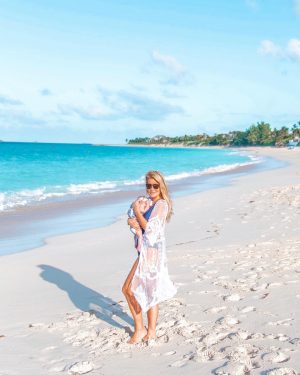 The Airport
My experience was a bit daunting as my husband and I typically show up to the airport with no time to spare. With an early morning flight, we decided to drive ourselves and valet the car at the airport. This would have been super convenient but we experienced quite a delay as there was a mixup with our prepaid slip. This ended up throwing off our timing and we finally got to the gate with no time to spare.
I mention this because if it were just us, we would have been totally fine. However when traveling with an infant, you must see someone at the desk to verify the infants passport. That being said, totally skip the machine printouts at the airport and go straight to the desk to save yourself time. Your boarding pass will not print and you will waste the time that you could have already been standing in queue.
Next, going through security. This was pretty straight forward but be advised that the baby must come out of the car seat or stroller. This isn't the most fun when they're asleep. Oh and you CAN bring breastmilk (up to 100ml in Canada). I was told numerous times that this wouldn't be ok but the security agent assured me that I could bring it next time. Dully noted!
Finally boarding the plane is easy. When traveling with an infant you automatically receive priority boarding. This is definitely a perk when traveling with a baby!
The Flight
Our flights were thankfully a total breeze! I attribute it to choosing a flight time when she would typically be sleeping and keeping her cozy throughout. I had her bundled up in a cozy sleeper and put a jacket and hat on for extra warmth. She slept the entire flight (there and back!)
During take off and landing, the flight attendants ask they you hold an infant in a burping position. For the rest of the flight you may hold them as you wish.
Being worried about her ears during take off and descend, I just made sure to feed her around the same time I began to feel the sensation in my own ears. Breastfeeding her during this time seemed to counter any ear popping due to her sucking and naturally popping her own ears. A bottle or pacifier would also have also been great for this.
Choose Great Accommodations
I would say this is the key to a great vacation. You want to make sure that you choose your accommodations wisely to ensure a comfortable and safe stay for your family. Many hotels are family friendly and will welcome you with all of the necessities you need for your baby (I.e. car seat, crib, etc. if required).
We chose to stay with the Four Seasons brand of hotels, as we always know we can expect impeccable service and a comfortable stay. Their staff came prepared with a car seat when picking us up at the airport (although we didn't need it) and provided a crib in the room upon check in. We felt welcomed everywhere we went with the baby in tow. The Four Seasons staff were overly accommodating anywhere we dined or hung out with the baby throughout the day. I was also happy to notice that there were change tables in almost all of the resort restrooms making it easy to have her with us all day without having to go back to the room.
While I wouldn't necessarily call Four Seasons properties 'family oriented' hotels, they are certainly family-welcoming. In my opinion, this is the best type of hotel. Every resort I have traveled to within the brand has always had a wonderful Kids Club on-site and offers a babysitting service should you wish to take advantage.
That being said, I think AirBnB travel would be great as well. We decided we will try this for next time and see what we like best.