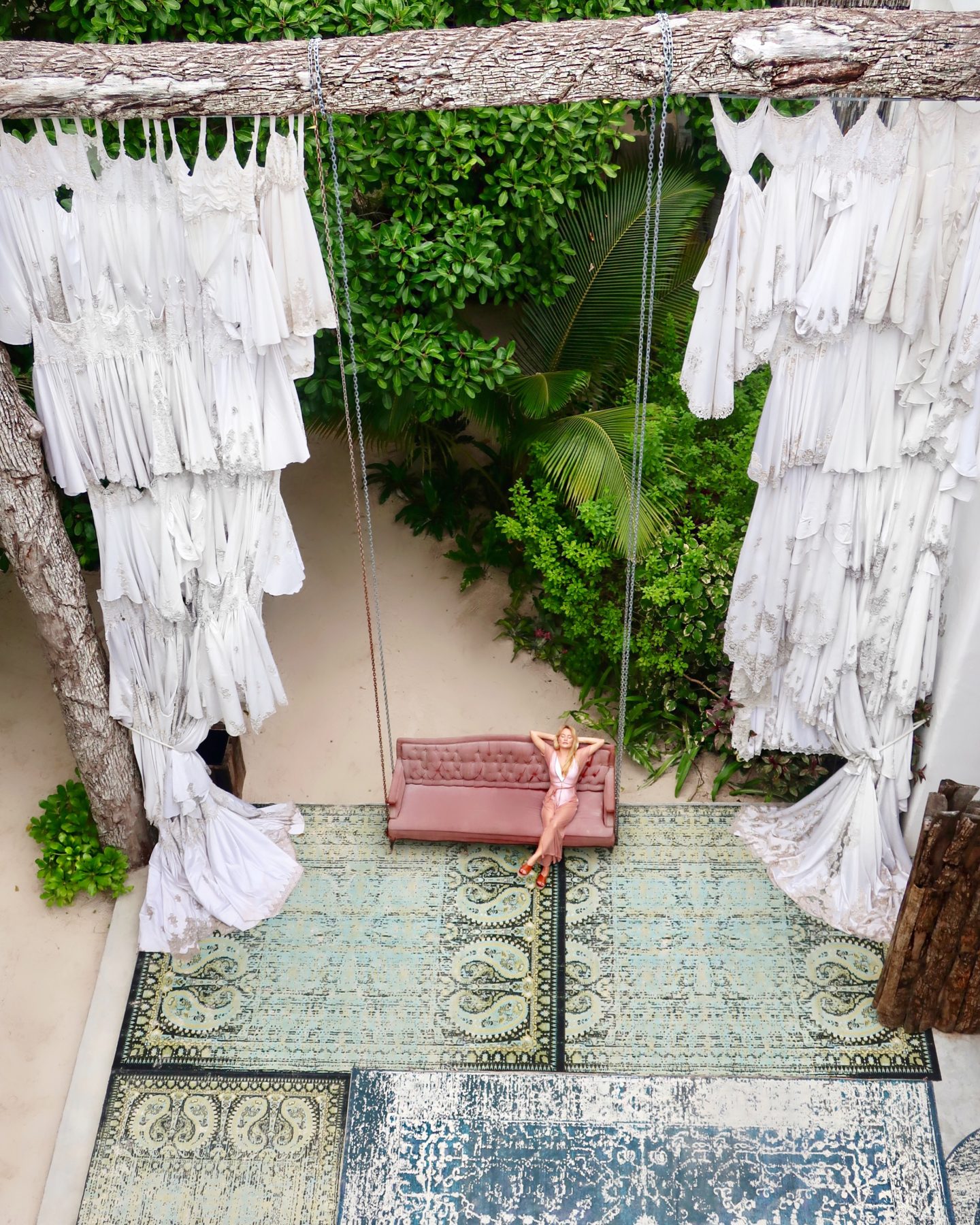 Ahh Tulum, the Instagram bloggers dream destination with photo ops every direction you turn. Although I promote authenticity and originality, if you are planning a trip to Tulum and you are looking to get the best 'original' shots in some of the trendiest locations, follow my guide below for the top shot locations in this boho paradise!
1. PABLO ESCOBAR'S MANSION: CASA MALCA
Coming in hot at number 1 (because lets be honest, its pretty epic) is Pablo Escobars's old mansion turned hotel, Casa Malca. With its grand entrance way featuring draping wedding dresses over a swinging antique sofa, it creates a drool worthy photo-op. I was fortunate to have the privilage of being one of the first to feature a stay at this now super trendy hotel. The location is slightly out of the way, being at the exact end of the Tulum strip, but its certainly worth the distance. Getting in just to take a photo will likely be a challenge as they only allow guests onto their grounds, so make sure to book at stay with them or visit their onsite restaurant for lunch, Philosophy.
2. THE FAMOUS MATCHA CAFE: MATCHAMAMA
Whether you are a matcha lover like me or just want to come for a quick cool drink, this is hands down the cutest place on the Tulum strip. Further down the strip, in the same direction as Casa Malca, you will find this cute swinging cafe on the jungle side of the road. In addition to the matcha forward menu, they also serve a selection of coffees, smoothies and açai bowls that are hand made with TLC in this cute little roadside hut. Come for breakfast, a light lunch or just a cold drink and make sure to snap a cute pic!
3. BEACH SWINGS IN PARADISE: COCO TULUM
While there are about 12 beach side swings, this place definitely gets packed on a gorgeous day! Being one of the first hotel hangout spots when you turn onto the strip, Coco Tulum gets busy during the day with an eclectic crowd enjoying the beachside pleasures of Tulum. Come to enjoy some cocktails, good music and wave watching at this cute little beach front bar. You can visit here freely but I doubt you will want to leave without trying some of their tasty fare!
4. TREEHOUSE OF DREAMS: KIN TOH AT AZULIK
Did you really go to Tulum if you didn't get a picture in the treehouse at Azulik? Kin Toh is a popular Mayan restaurant built up on 12M stilts above the hotel's lobby. With incredible views of the jungle, paired with one of the coolest ambiances you can find in the area, this is certainly the place to be. Come here for an unforgettable dining experience or to have some tasty cocktails while hanging out on a huge hammock full of pillows!
If the treehouse isn't enough, they also have a birds-type 'nest' set above the trees for the ultimate dining experience. This restaurant is quite upscale so you may feel out of place visiting just to take pictures. I would recommend coming for a cocktail or two (my favourite: the spicy margarita!) or even making a dinner reservation to enjoy the unforgettable experience of treehouse dining.
Location wise, Azulik is one of the first hotels you will see when you get onto the Tulum beach strip.
5. THE CRYSTAL BLUES: GRAN CENOTE
Just a short drive from the main drive of Tulum, you will find the most famous cenote in all of Mexico, El Gran Cenote. This cenote is quite small compared to the others but it is unique as it is set within a cavern unlike the other open water cenotes in the area. The cave is full of sea life and is the perfect place to get some unique shots with the turquoise blue fresh water. Because it is set within the cave, the water is quite chilly without having exposure to the sun however, it sure is refreshing on a hot day in the Mayan Riviera.
To enter the cenote, there is a small fee of 50 pesos (about $3) and this will give you access to swim and snorkel in the cenote as they have showers to rinse off afterwards. Make sure to bring a bathing suit and towel and don't forget to play with the baby turtles!
6. WORK OUT ON THE BEACH: TULUM JUNGLE GYM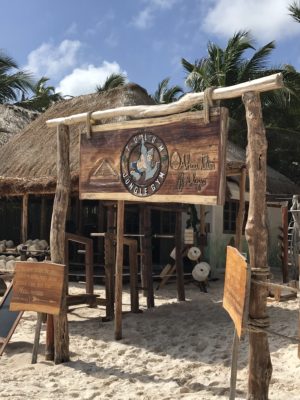 The name says it all. This is the top spot for the workout buffs or for the Instagram men out there! This outdoor beach gym is made up of almost all wood and stone equipment including wooden dumbbells and a Flintstone-Like jungle gym. It is the perfect place to get the instaworthy shot showing off your beach muscles during a workout. It is located right on the beach next to the Ahau Hotel.
There is an entry fee for the Jungle workout but maybe if you ask nicely they well let you in to take a pic 🙂
Going to Tulum? Contact me for some more local recommendations! [email protected]