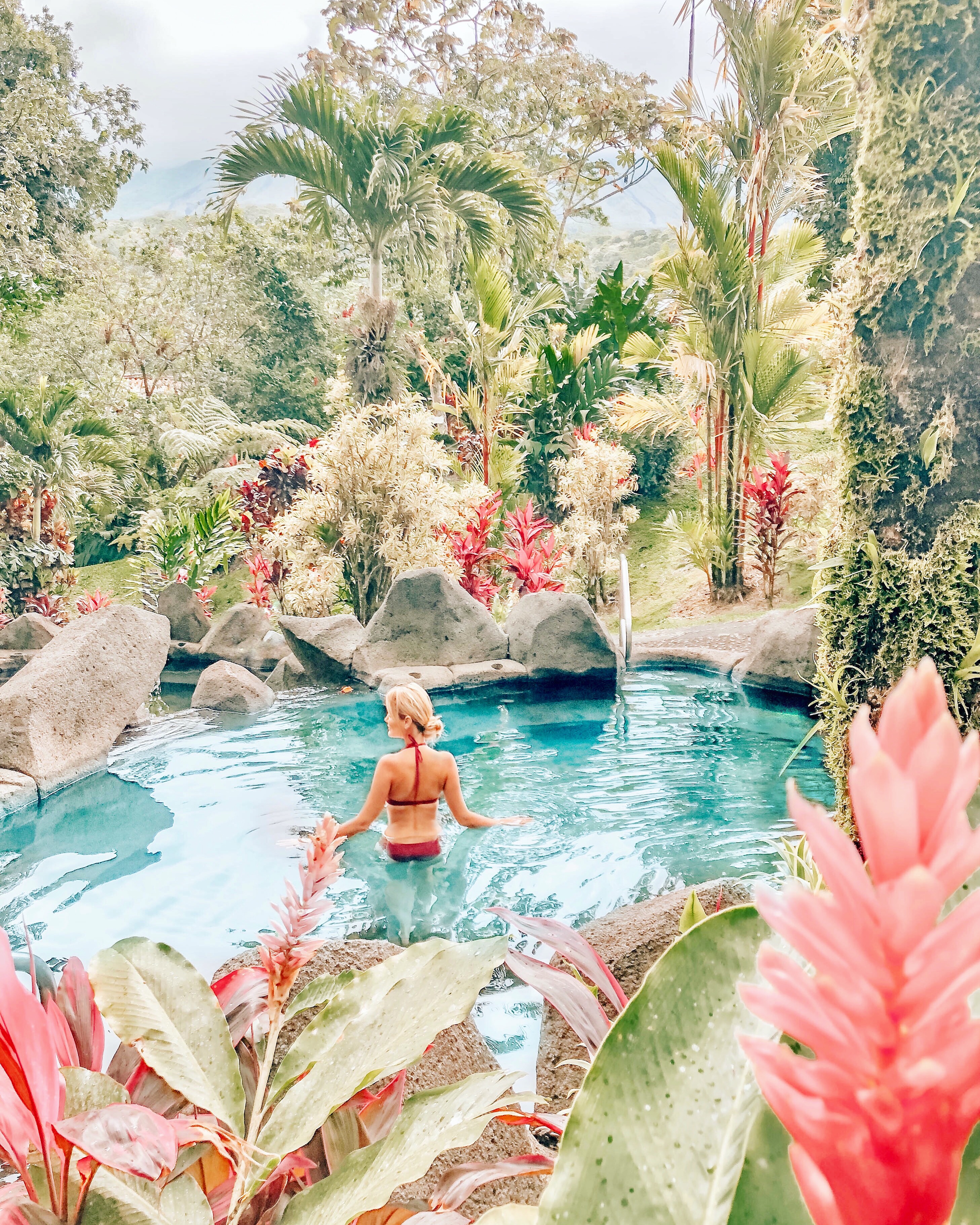 Celebrating 2019 in Costa Rica
There is no better way to kick off a New Year than refreshing the mind, body and spirit. Beginning the year with a recharged mindset has continually helped me set the stage for a prosperous year to follow.
For this reason exactly, my husband and I have made it an 8-year tradition to explore a new destination to ring in the New Year. We celebrated our first New Year in Costa Rica in 2018 and knew there was no better place to ring in a 2019 of full of health, wellness and success, then back in Costa Rica.
There is something about this lush Central American country that really speaks to the soul. Maybe it's the natural beauty or the 'Pura Vida' way of life, but visitors to Costa Rica unanimously agree that there is definitely something special. Having stayed last time for only a week, this time around we decided it wasn't enough and stayed for a month. We really wanted to soak up as much of the Pura Vida lifestyle as we could.
After flying into Liberia airport on the Western Coast, we rented our Jeep, stopped to get some supplies and set out for our awaited month-long adventure!
First Stop: Tamarindo Beach
Tamarindo is certainly one the most exciting beach towns on the Guanacaste coast. Both tourists and locals flock to Tamarindo beach to enjoy the beautiful beaches, perfect surf waves and the exhilaritng beach town.
There is plenty to do in Tamarindo. The beach is lined with fantastic restaurants, relaxed beach bars and many unique shops to keep you busy. The beach is full of fun-loving visitors either taking advantage of the surfing waves or hanging out with friends on the beach.
Tamarindo is especially exciting on New Years Eve. Many locals will tell you that Tamarindo is the best place to be to ring in the New Year. If great food, fireworks on the beach and wicked parties is what you enjoy for your NYE, then Tamarindo is the place for you.
We decided to stay like locals and get an Airbnb on the beach (my second airbnb ever!). Having stayed at a hotel last time, we both agreed that this was the better way to experience Tamarindo. Following the NYE hustle & bustle, we made sure to enjoy the relaxing beach vibes Tamarindo had to offer as well. I enjoyed daily yoga at a local studio and made sure to catch the sunset each night on the beach.
Throughout the end of December and January, the weather in the area was a perfect 30-32°C (86-89°F) and sunny everyday!
Just a short 7 minute drive from the Tamarindo strip, we arrived to our first hotel stay with the JW Marriott. Living like a beach local was fun but it's always nice to feel pampered at a 5-star hotel as well 🙂
The JW Marriott was fantastic. Located in a resort community in Hacienda Pinilla, the resort felt like a traditional (and enormous) Costa Rican estate. On the Hacienda land there is plenty to do. With 3 miles of the pristine Pacific coast there are several beaches to enjoy along with their local activities indulging 18-hole golf, horse back riding and the wellness Spa.
The JW Marriott Guanacaste typically caters to couples/romantic getaways but during the busy holiday season, it was full of families with children of all ages.
Most of the days spent at the JW Marriott were totally relaxed. We enjoyed their fabulous restaurants, the beachfront sunsets and the larger-than-life pool (the largest in Central America!).
See my full review on JW Marriott Guanacaste
here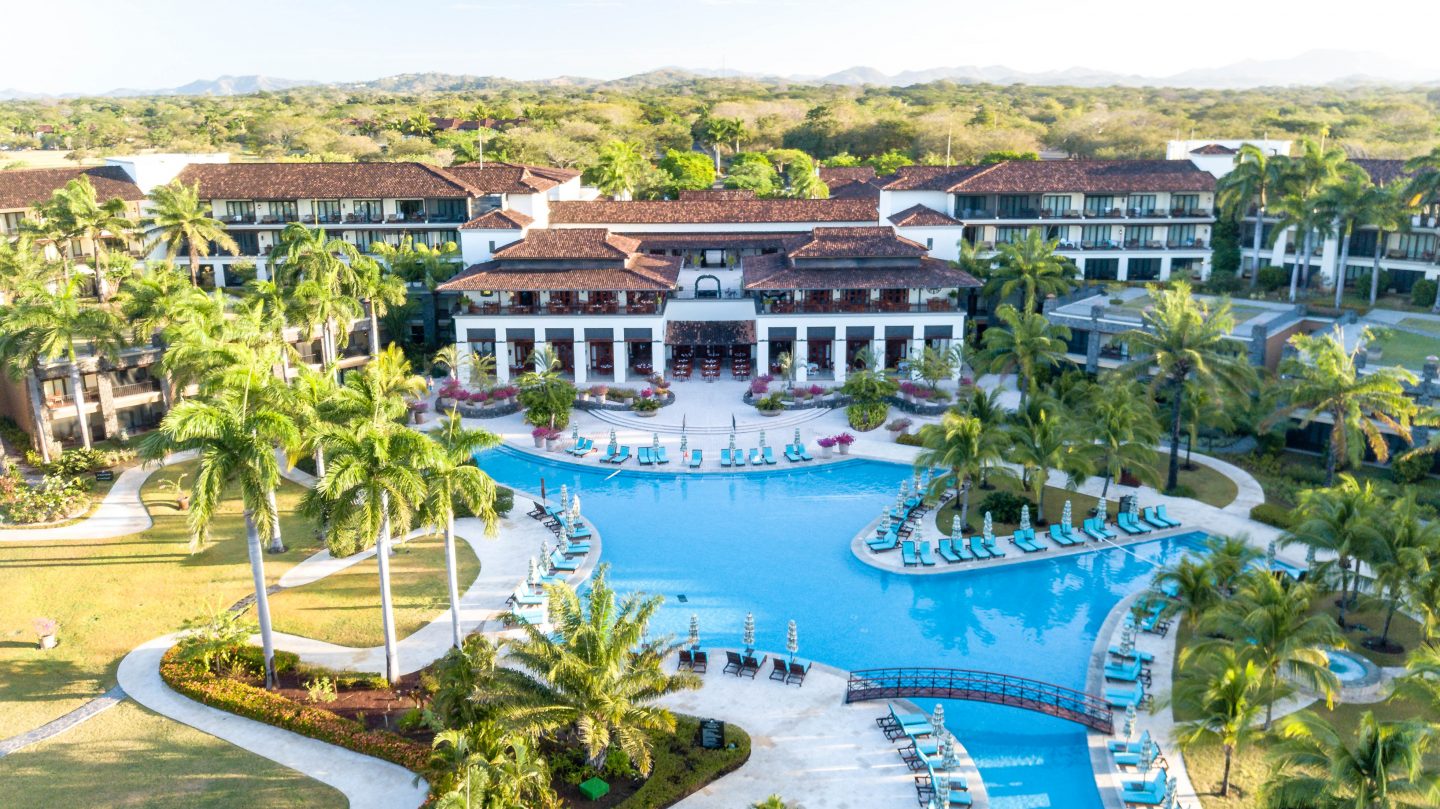 Traveling Further South: Nosara
I considered almost not mentioning this next spot. I feel like Nosara is one of those special places that you just want to selfishly keep to yourself.
Staying locally in another Airbnb, we chose to stay at a boutique spot called Boheme. The apart-hotel was a perfect combination of a hotel with the perks of being in a boho-style apartment. It was a quick walk to the beach and other local spots in town.
Nosara is quite small and the town is only a single dirt road. The area is known for surfing (as of all the West Coast) and lots of Yoga. The beach town has a very bohemian feel with many ex-pats living an unconventional life on the beach.
During my 6 days there, I never missed a day of yoga or pilates. The facilities in the area are outstanding and the instructors can take you on a wonderful wellness journey in just a short few days. I also enjoyed many spiritual and meditative experiences, including a journey of sound with Shanti Sounds that was remarkable. Nosara is a popular spot for yoga and wellness retreats, so if you are into that you are sure to meet many likeminded people.
I have never felt healthier while traveling than I did in Nosara. There is something to be said about the area and their natural way of life. Being just outside of the Blue Zone in Nicoya, the Pura Vida lifestyle is something you can truly feel in your soul when visiting Nosara.
If I ever decided to live in Costa Rica, this is where I would choose to be.
See highlights from Nosara here

Heading Inland to La Fortuna
After a spiritual week in Nosara, and almost 3 weeks spent on the beach, it was time to head to our next adventure: La Fortuna.
La Fortuna is the small rainforest town located in the Arenal volcano region. No trip to Costa Rica is complete without visiting this region. The area is known for their vast rainforests, distinct wildlife, waterfalls and of course, the incredible volcano. Many hotels in this region boast epic views of the volcano and hot springs heated from the geothermal heat.
We decided to spend our weekend in La Fortuna at Arenal Kioro Suites. Arenal Kioro is set at the base of the volcano with a direct, unobstructed view. Their private hot springs are beautifully surrounded by their manicured gardens making for the perfect little oasis.
The rooms are very large with balconies overlooking the volcano view. They also come with your own personal hot tub which is a nice perk to have after a chilly day exploring the area.
The weather in this area for January was warm and slightly overcast in the day 21-24°C (70-75°F) and dips to a chilly 10-15° cooler at night.
Checkout highlights from the beautiful Arenal area here
Heading Back to the Beach: Papagayo Peninsula
Our next stop was back to the region we had originally visited on our first trip to Costa Rica: the Gulf of Papagayo
The Papagayo Peninsula boasts incredible views of the pacific sea surrounded by the lush green landscape. While many of the beaches in Guanacaste are for surfing, the beaches in Papagayo are protected. The beaches are located within calm bays making it perfect for relaxing. Many of Costa Rica's top hotels are located in the Papagayo region. Being only a short 20-minute ride from the Libera Airport, it makes it the perfect area to visit if only one stop is in your plans.
When we arrived back to the coast, we checked into the magnificent Andaz Costa Rica. This was my first time staying with the boutique-luxury brand from the Hyatt. From the moment we checked in, I was impressed by the personalized service that continued throughout our stay. It really felt like our home-away-from-home.
The Andaz is built like a massive treehouse constructed into the hillside of the peninsula overlooking the Pacific sea. With its open-concept wood design and fixtures, it feels very authentic to the natural surroundings of Costa Rica. The entire property felt brand new with a very chic, eco-luxe design. The welcoming staff are what made it truly unforgettable.
With plenty to do on the resort and in the local area, you will definitely keep busy. They have access to 3 beaches (including their own private beach house), an 18-hole golf course, several pools and incredible dining options making for the perfect stay. The highlight for me definitely had to their suites (see tour here). We stayed in the Andaz Suite which felt like our very own luxury treehouse. All rooms are well located with views of the sea and close to all of the amenities/restaurants located on the hotel grounds.
Overall, I was very impressed with the quality, service and boutique luxury feel at the Andaz Papagayo. I cannot wait to stay with another Andaz by Hyatt properties in the future.
See my full review on Andaz Costa Rica here

When we first visited Costa Rica in 2018, we had the pleasure of staying at the newly renovated Four Seasons Papagayo. We had such a lovely stay that this time around, we just had to return.
We decided to plan our second stay with Four Seasons as the final stop to the month in Costa Rica. Being on the same peninsula as the Andaz, it was a quick 5 minute drive to our final destination.
Like any Four Seasons property around the world, the Four Seasons Papagayo exudes luxury at its finest. After completing a $35M renovation in late 2017, the property is outstanding combining elegancy with the natural eco-beauty of Costa Rica. The rooms are spacious and the villas are impeccable, all paired with a view of they bay.
The resort features two beautiful white sand beaches, 3 pools and several restaurants on site, including their newest addition at the clubhouse, Nemare. There is a variety of activities throughout the day to keep busy. The Four Seasons offers water sports, mixology classes, chocolate tastings, wildlife sighting and many other great activities to fulfill your time there.
I made sure to take advantage of their renovated spa facilities to continue my wellness journey. Their spa is incredible and began incorporating Ayurvedic practices as of recently – a totally new concept for Four Seasons. I attended several meditation classes, including their Tibetan bowl meditation along with their daily yoga.
Finishing the trip at the Four Seasons was the icing on the cake for a wonderful trip in Costa Rica. Needless to say, I felt like a brand new person coming home from this unforgettable vacation.
See my full review on Four Seasons Papagayo here
Fun Fact: All 3 hotels I chose to stay at on the Guanacaste Coast were designed by the same architect, Ronald Zürcher. Kudos to him and his team for making the Guanacaste coast so eco-luxe!