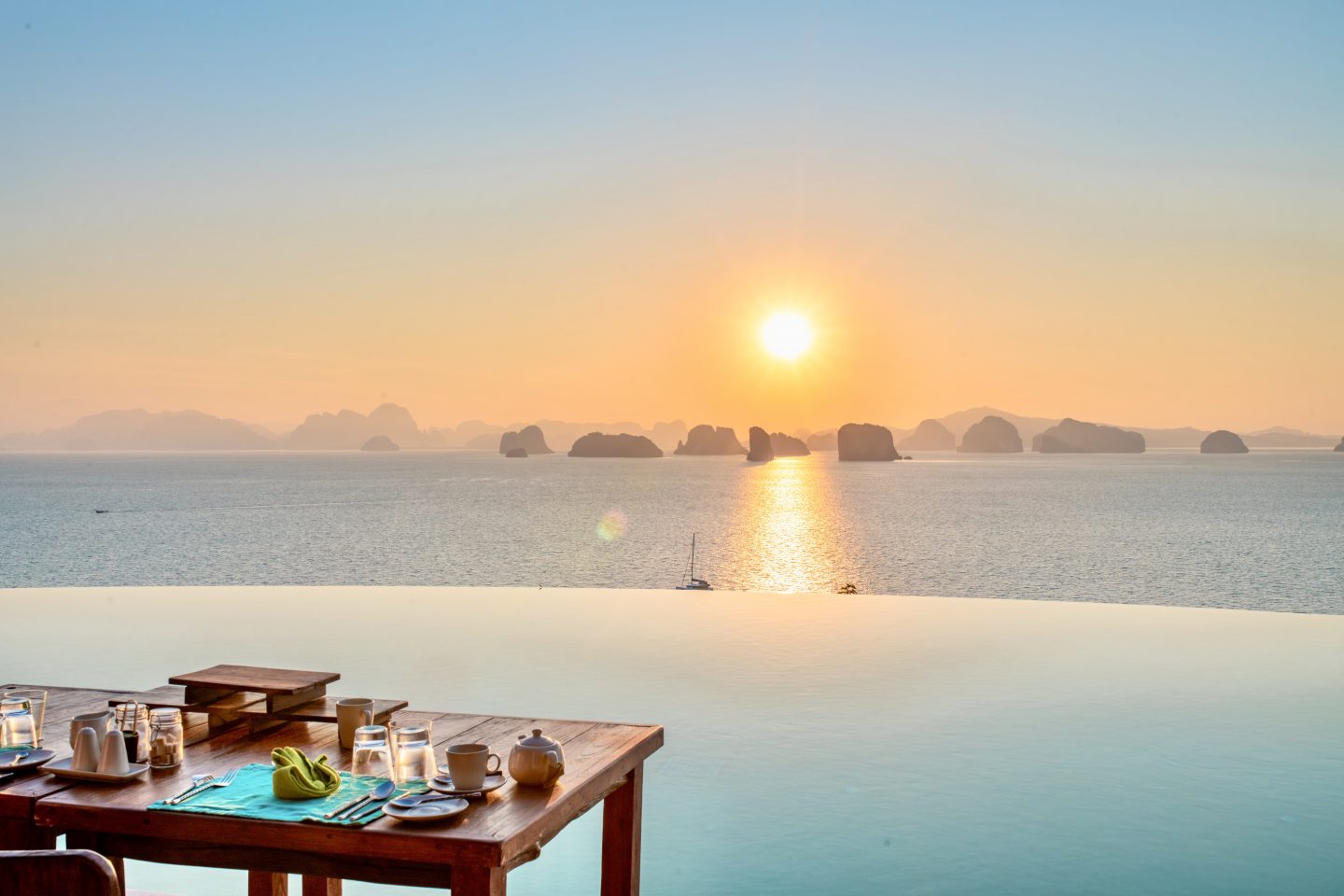 Set in an idyllic paradise off the coast of Phuket, the Six Senses Yao Noi is certainly the pinnacle of luxury resorts in Thailand.
Just a short 30 minute boat ride from Phuket, halfway to Krabi, you will arrive to the tiny paradise island of Yao Noi. Although neighbouring with many of the popular tourist islands surrounding Phuket, Yao Noi is a fairly secluded island not heavily trafficked by tourists.
In 2011, as they usually do, Six Senses built an exclusive resort in the most exotic location in Thailand. Perched on the West coast of the small island, their private resort offers secluded hideaway villas with unparalleled views of the striking limestone cap islands of Phang Nga Bay.
A Private Escape
Built into the lush hillside on the coast, leaving most of the natural forestry intact, Six Senses Yao Noi is the ultimate private island escape. The property is vast with 56 uniquely built villas each featuring their own private plunge pool and outdoor space.
Common amenities on the resort include their 4 restaurants and bars, the hilltop infinity pool with the breathtaking view and of course their world renowned spa. With the vast property and secluded feel, you can often enjoy many areas of the resort to yourself without many other guests around. Even at peak occupancy, the resort remains very intimate encouraging ultimate relaxation and peacefulness. (See highlights from the resort here)
In addition to the usual resort amenities, Six Senses Yao Noi also has their own mini-farm onsite. Home to several animals, including ducks, chicken and goats, the farm is a representation of their core values of sustainability and organic wellness. The farm is open for guests to not only visit and play with the animals but you can also stop by to collect daily eggs for breakfast. Fresh produce is also grown on the farm providing quality ingredients to the resort restaurants. The farm was certainly a highlight for my time on Yao Noi as I had not yet experienced a resort farm in my travels.
Sustainable Practices
Like all Six Senses across the globe, sustainability is deep in their heart. Not only do all resorts bottle their own water after desalinization or post-treatment, they strive and succeed to be virtually plastic-free across every resort.
The Six Senses Yao Noi has an open access sustainability center where guests can admire their environmental processes. Everything on the resort, from glass to candle wax to even waste is recycled and reused on the resort. Furthermore, their sustainability efforts go far beyond the property itself. Resort staff make significant efforts to have an impact on the community as well. They make regular visits to local schools to educate the youth on sustainability and often lead cleanup efforts on Yao Noi and also on the neighbouring islands.
Hideaway Villas
Villas at Six Senses Yao Noi come in many sizes. All villas are unique in design with up to four-bedrooms offered.
We stayed in the incredibly private Hideaway Pool Villa. With 1,650 Sq Ft of indoor and outdoor space, the villa was quite spacious. Being surrounded by the sights and sounds of the tropical forest made it feel like our own luxury treehouse. It was easy to enjoy days on end in the villa, relaxing pool side and catching glimpses of our friendly visitor, the Hornbill bird native to Yao Noi island.
The indoor space is well laid out with over 800 Sq Ft of separate sleeping and sitting areas. The bedroom opens up to the large restroom featuring his and her vanity sinks and both an indoor and outdoor shower.
The villa was quite comfortable and became our little sanctuary during our stay. Although they were near capacity, we felt so secluded that we could hear virtually nothing but soothing nature sounds during our entire stay.
Along with the villa you receive warm and personalized service with your own Guest Experience Maker. This high level of service is exclusive to the Six Senses brand and is an unforgettable personalized touch to an incredible stay. Your assigned 'GEM' will be somewhat of a personal assistant curating your stay from the moment you check in. They tend to your every need for any level of service you require. As always, we were pleased with the high level of impeccable service and our GEM, Tokyo, left a lasting impression.
Resort Amenities
Six Senses provides a number of amenities for guests to enjoy both on and off the resort. With many activities to choose from, both relaxation and adventure can be on your vacation itinerary.
On the resort you will find 2 private beaches, both with plenty of lounging space and sunlight. On the hilltop is their astounding infinity pool with the striking views of the sea with the peaks of the neighbouring islands. The resort also includes a fully-equip gym with everything you need for a challenging work out and a personal trainer onsite. Specific to the Thailand resorts, you will also get the chance to try out your skills in Muay Thai. They have a boxing ring onsite with a trained coach to guide you through the cardio-intense activity.
Six Senses Spa
And of course, as with all Six Senses, they have their world renowned Six Senses Spa. The spa is set within the lush tropical forest and each treatment is performed in your very own private villa. They offer a range of treatments from traditional massages to the famous Thai massage. As a compliment to your spa visit they offer a curated wellness journey they can guide you on throughout your stay.
For me, a visit to the spa is a must when staying with Six Senses. For my treatment, I opted for the Six Senses Signature Holistic massage. Since I was in my early stages of pregnancy on my visit, the therapist was able to design a treatment specific to my needs and safe for my pregnant belly. Fortunately for me, the waterfall villa was available for my treatment. This villa features a natural waterfall and lily pond right outside the sliding doors. Choosing this villa was a no-brainer. The sound of flowing water combined with the wonderful massage put me in a state of total relaxation.
Next to the main reception area is a new area called the Alchemy Room. In this small wooden room, you can get the chance to work with a specialist to create an essential oil specific to your needs. They have all of the necessary ingredients and herbs to create your own signature potion whether for take home or for your treatment in the spa.
I finished my visit to the spa with a detox juice from their juice bar. Having already been feeling the afterglow from the massage, their wonderful fresh juice certainly topped off my afternoon of wellness at the spa.
Off Resort Activities
If you crave some activity off the resort, your GEM can help facilitate an experience customized to your preferences. We chose to do two activities during our stay. For one morning, we enjoyed a Tuk Tuk tour through the island learning about the unique landscape and local culture of Yao Noi.
On another morning we did a half-day private boat tour through the Phang Nga Bay islands. On the boat tour we were taken to some of the popular local spots while avoiding mass crowds. Having done a boat tour off Phuket, I was quite skeptical as islands we visited were swarmed with tourists, however our captain made sure to avoid mass crowds and it turned out to be the perfect day at sea.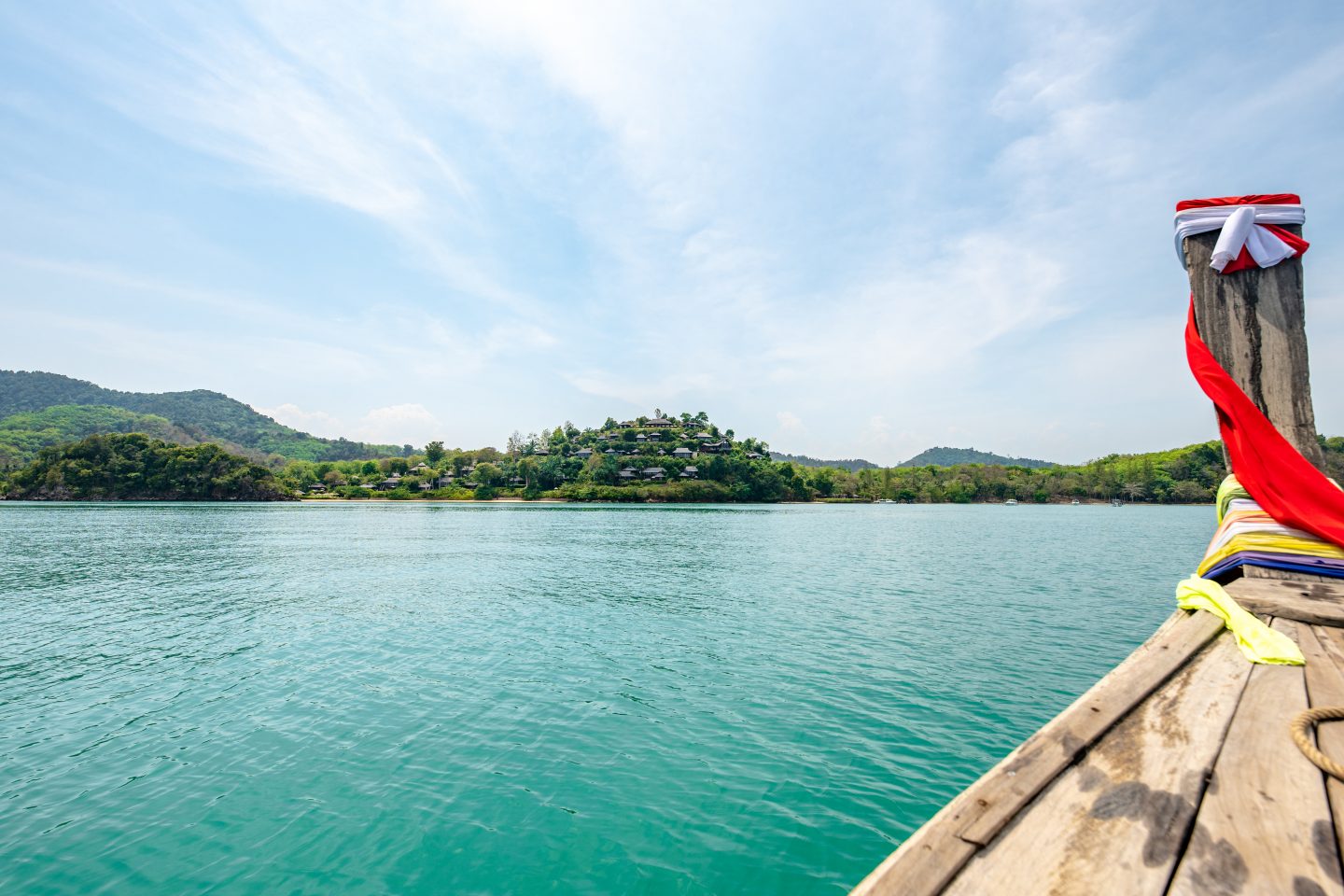 Dining at Six Senses Yao Noi
There are 4 excellent choices for dining on the resort. With the onsite farm, the culinary options provide a true farm-to-table experience.
The dining options range from casual buffet or in-villa to their fine dining and private dining options.
The Living Room serves breakfast, lunch and dinner both buffet style and a la carte offering a variety of daily selections. The Taste of Thailand buffet featured at the living room was truly my favorite. Four stations are set up to represent the different cuisines in each region of Thailand. Dishes from the North were distinctly different from the South and stations were set up in such a way to highlight the most popular dishes in each region. Being a lover of Thai food, I tried almost everything and was actually enlightened by a number of Thai dishes I had not yet tried before. I highly recommend making it for this evening.
In addition to the casual option of The Living Room there is also The Den. Located in the maion building, the Den is a cantina-style bar serving smaller plates and lighter bites. For a comfortable option, in-villa dining is fantastic with an extensive menu to choose from. You can choose to eat outdoors on your private terrace or dine inside your villa.
Exclusive Dining at Six Senses Yao Noi
The resort offers a selection of exclusive dining options as well. The Hilltop reserve is open for lunch and dinner with dinner providing a more fine dining experience. The restaurant features rotating set-menus ranging from Chinese to Italian to modern Thai. Many of the ingredients used in preparing the dishes come directly from the resort farm. If not grown or sourced from the farm, the ingredients are very local to the island.
When visiting for dinner, it is best to arrive at sunset. With the magnificent views the sky lights up wonderfully over the horizon of islands in the distance. As the night sky rolls in it is truly astounding as you see the sky light up for a dinner under the stars.
The Dining Room, set atop the main building allows you to dine in your own personal pavilion. The Dining Room provides a private Chef's Table experience along with a number of cooking classes and degustation dinners.
Sunrise Breakfast on the Hilltop
And lastly if you desire the most intimate of experiences, the resort offers a unique sunrise breakfast for two set up on their Hilltop. This is an out-of-this-world experience as you sit front row to watch the sun rise directly over the horizon.
The morning begins at 5am where you are picked up by your GEM and brought to your private breakfast. You watch the sky light up while you sit and enjoy a morning coffee or tea. When the sun has risen over the horizon, a hearty breakfast spread if served around 7am. When choosing this private option, you get full access to the Hilltop deck exclusively to yourself until 10am.
The sunrise breakfast was one of my favorite dining experiences to date and created memories of a lifetime for my time in Thailand.
Six Senses Yao Noi
Overall my time at Six Senses Yao Noi was absolutely unforgettable. Prior to arriving, I was not so sure how I would feel about Thailand, as I knew it was one of the most traveled countries in the world. However after visiting Six Senses Yao Noi, I truly fell in love with with the country and its people. Thailand;'s remarkable beauty and warm friendly culture is uniquely showcased at Six Senses Yao Noi. I highly recommend this incredible resort for anyone traveling to Thailand and it is certainly worth the splurge.