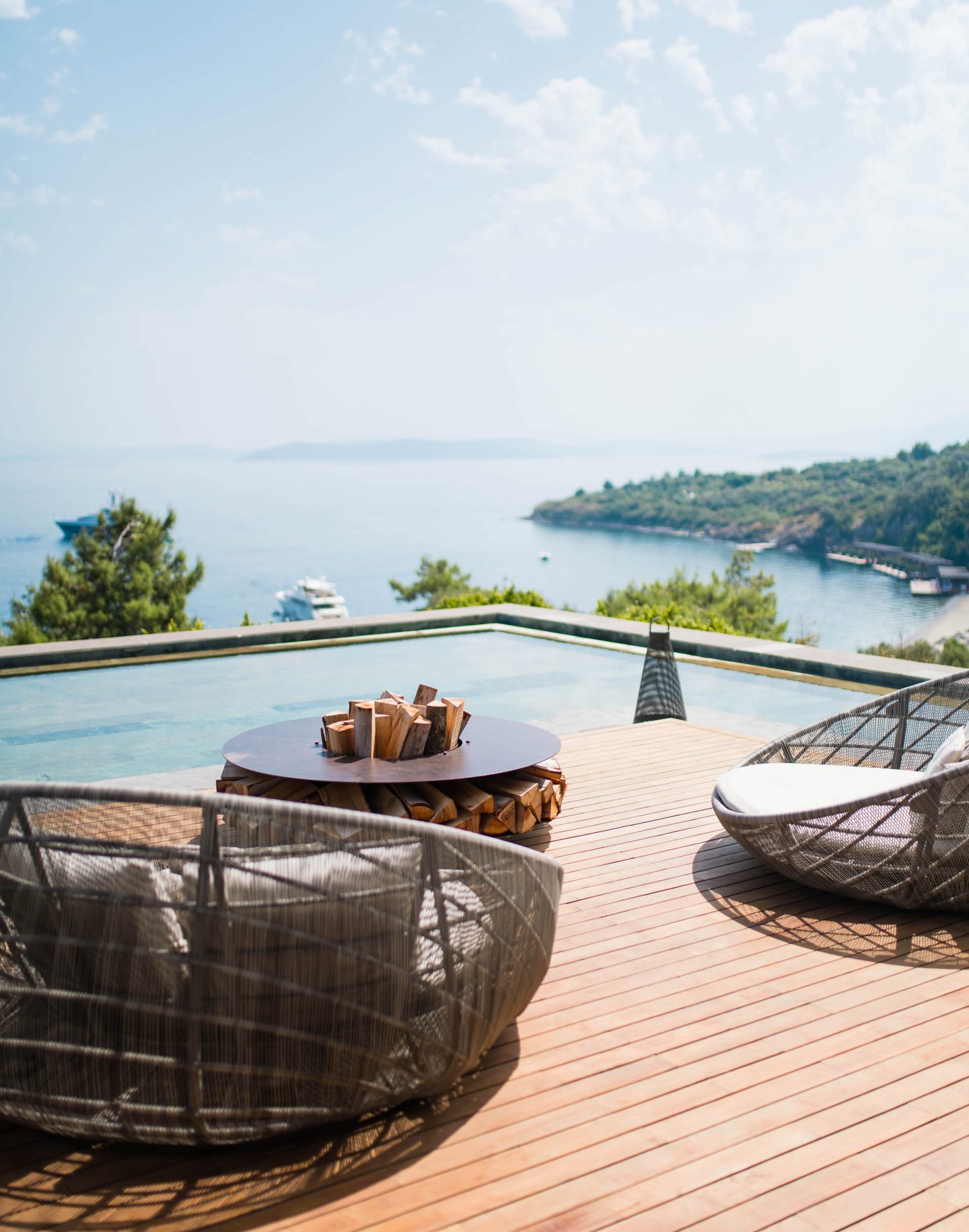 MO Bodrum
Thanks to the Mandarin Oriental, Bodrum will always hold a special place in my heart. Visiting Bodrum on Turkey's Southen Aegean coast was already a dream come true and the Mandarin Oriental definitely added the cherry on top.
As if Turkey wasn't already a total bucket list country with dreamy destinations like Istanbul and Cappadocia. Once you add Bodrum to the mix, you get a luxe tropical paradise amongst the already enchanting, history-rich Ottoman land.
Often referred to as the St. Tropez of Turkey, Bodrum is such a special place and really cannot be compared to anywhere else I have visited. Located on a peninsula among some of the Southern Greek islands, it is distinctly different from the neighboring land. Rich with emerald coniferous trees (fir/pine) strewn on land surrounded by the deep blue azure, it slightly reminded my husband and I of Northern parts of Ontario, Canada, except with a lush tropical twist.
Getting There
There are several airlines in Europe that offer direct flights to Bodrum but in most cases, you will have to travel through Istanbul before reaching Bodrum as your final destination.
I, however, chose a bit of a different trajectory. Having flown into Athens, Greece from Toronto, I then traveled down to the Greek island of Kos before heading to Bodrum. Kos is directly below the Turkish mainland on the South West Aegean border and happens to be the closest Greek island to Turkey.
Being only 30 minute boat ride away from Bodrum, I was able to explore another Greek island before heading over by speedboat to the Turkish peninsula. I would highly recommend this route as it was a nice experience seeing the contrasting difference between the two countries and continents. Besides, where else in the world can you travel from Europe to Asia and see two different countries/continents by boat in 30 minutes?
The Resort
The Mandarin Oriental Bodrum is situated on the North Eastern coast of the peninsula and about a 30 minute drive from Bodrum town. It is located in the sought after area of Paradise Bay and built into the hillside, offering panoramic views of the Aegean and distant islands off the coast. The property is vast with a combination of villas and suites along with the main facilities. The design throughout is exceptionally elegant with dramatic wooden and stone details paired with open concept views of the sea. It has a charming Mandarin touch paired with the ultra-luxurious appeal.
Among the Mandarin Oriental's great amenities for guests, there are two pristine beaches where sand has been shipped from the Black Sea to make for a stunning beachfront. The sand is quite cool (literally) and it doesn't get too hot on your toes from the heat of the Turkish sun. I would have never guessed the beach was man-made as they have done such an excellent job of keeping it look very natural. In addition to the beach options, there is a wonderful pool perched above the beachfront overlooking the magnificent coast.
The resort is home to several incredible dining options including seafood, Italian and Peruvian options (which I will elaborate upon below) and a lovely breakfast buffet offering market-style a la carte stations. They have a handful of areas designated for lounging any time of day or night while soaking in the magnificent views.
In the West wing of the main building, you will find their world-class spa spanning over three floors and almost 30,000 SqFt of indoor space. The space is not only vast indoors with several different rooms for the various treatment types, but it also has an incredible outdoor space intended for ultimate serenity. The outdoor space features a large salt-water pool in addition to a bubbly hot tub and several cozy areas for lounging, all overlooking the sea views. The honeymoon suite is nestled above this spa oasis, so if visiting for a romantic getaway, this would be the perfect spot.
Resort Grounds
The Spa at Mandarin Oriental
Stunning Accommodations
Mandarin Oriental Bodrum offers a mix of accommodation options including guest rooms, suites, villas, and apartments. The guest rooms and suites are found within the main building and the villas built into the hillside. Many rooms offer panoramic views of the sea.
Our minds were blown when we checked into our luxurious and spacious room. It was so lovely that we were shocked to find out it was only their standard sea view guest room. The room was draped with an abundance of natural light and a cheerful and bright ambiance. The rich wooden details were paired with neutrally toned furniture and featured pops of tropical colour throughout. The indoor spaced opened up to a large garden terrace overlooking the stunning view of the Aegean sea. I was impressed with how well they blended the vast indoor and outdoor space.
My favorite part of the room was the magnificent bathroom. Enclosed with a glass wall providing a direct view of the sea from the bathtub, it made for such a dreamy soak! The bathroom was spacious and had a retracting ceiling above the bathtub and shower space that let in copious amounts of natural light. There was his & her sinks and a separate vanity area for makeup and blowdrying – I absolutely love a spacious bathroom and the vanity area was a definite plus!
I enjoyed staying in the guest rooms joined in the main building, as it meant for easy access to many of the hotel amenities. However, for a more secluded and private stay, I would love to one day check out their amazing villas built into their hillside. These lofty spaces would be fantastic for group travel with both family or friends.
(View a tour from my room here)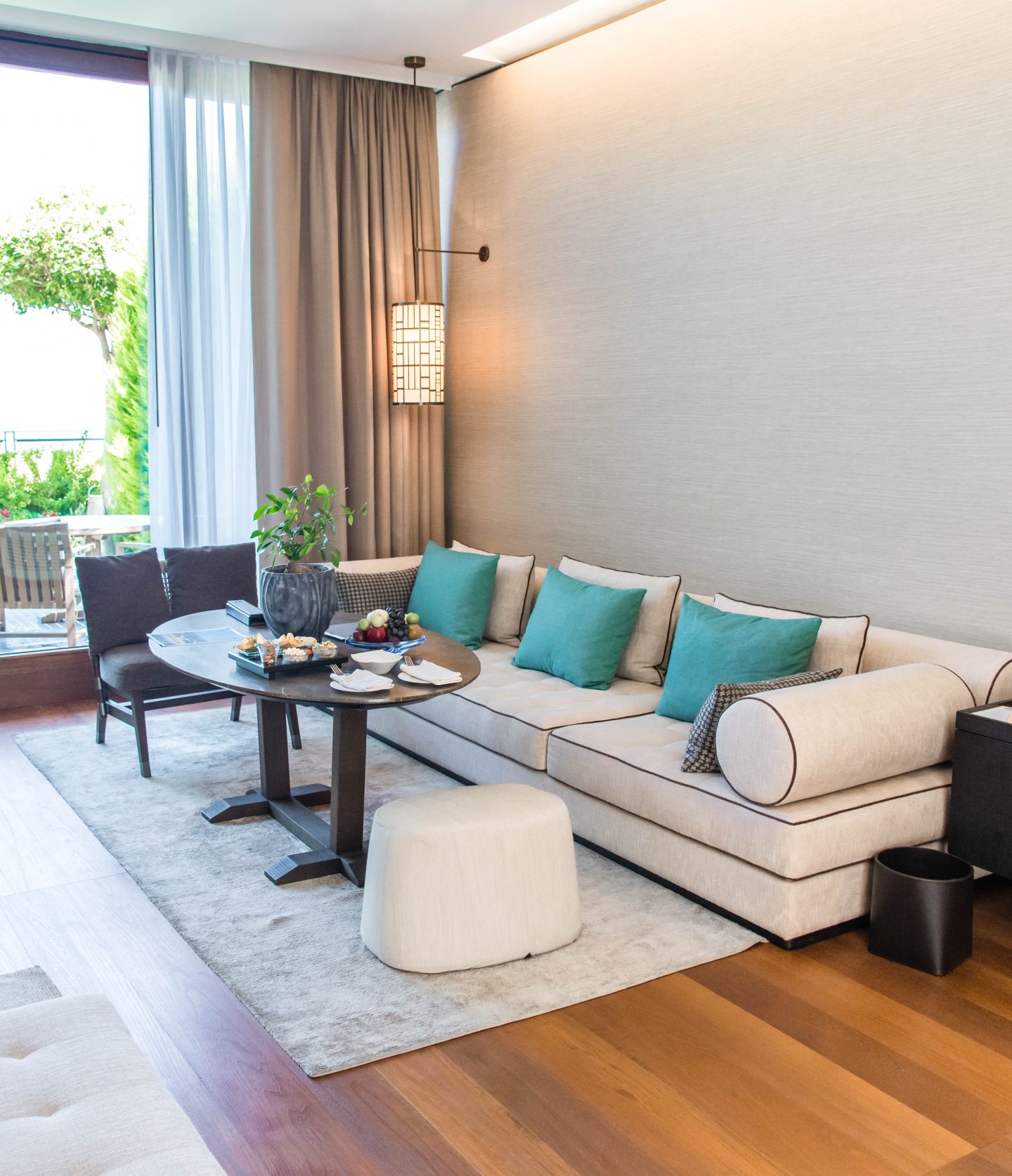 The Dining at MO
Dining at Mandarin Oriental had to be my favorite part. The restaurant options were absolutely incredible and featured the type of ambiance and dishes you would typically find at top Michelin Star restaurants around the world.
Dinner restaurants included traditional Italian fare at Assagio and their Mediterranian seafood option at Bodrum Balikçisi. Both are offered as the MO selection of restaurants on site. In addition to these two, they also have Kurochan by Ioki, a popular restaurant from Istanbul serving Peruvian Japanese fare.
Having dined twice at Bodrum Balikçisi, their Seafood restaurant with a view, I would have to say it was my favorite. However, the extraordinary views and impeccable service at Assagio definitely make it a close second.
The options at Bodrum Balikçisi were incredible, very well prepared and presented beautifully. The seafood was fresh and served with very unique and distinct flavors – even if not staying with Mandarin Oriental, I highly recommend a visit to Bodrum Balikçisi.
The service level at both Assagio and Bodrum Balikçisi make for an incredible evening. They are not only well managed by leaders with strong experience in the food industry, but they truly cater to your every need and ensure a world-class dining experience.
Fortunately enough, I was able to keep up my pilates routine in their amazing gym! I had to work off all of the incredible food I had to eat during my stay.
MO Service
This is certainly what sets Mandarin Oriental apart from other leading hotel chains, their world-renowned excellence in service. Led by one of the best management teams I have been able to meet along my travels, I know Mandarin Oriental Bodrum is going to achieve insurmountable levels of success for years to come. With keen attention to detail, they check all the boxes when it comes to luxury, comfort, and service.
From the moment we arrived, the service level was outstanding. Our butler was waiting at the door as we pulled up and promptly checked us into our room getting us acquainted with the property before we head off for lunch.
Being the first resort in Turkey to introduce a butler service, they are certainly the leader for ensuring the ultimate luxurious and pampered hotel experience. Having a butler may sound slightly intimidating to some, but it was a touch of service that exceeded our expectations without being intrusive in the slightest. It was a treat to have direct service access via WhatsApp for any questions we might have and we appreciated having someone to organize our itinerary and book us dinner reservations or spa appointments.
All of the staff we encountered from the restaurants to the spa, were delightful. Many were locals in the Southern coast of Turkey and had a great story to share about how they would be spending their winter months. The hotel closes for the winter season and Mandarin Oriental offers a staff exchange option to work at another property somewhere else in the world. Some mentioned that they would be heading to Italy to work in the Milan location and others mentioned Spain, Singapore, and Morocco. I couldn't help but think how great the Mandarin Oriental hotel group was, taking such good care of their staff.
The exceptional level of service definitely left us with a lasting impression and now I can't help but wish for more memorable MOments with Mandarin Oriental.
Thank you Mandarin Oriental, Bodrum
If you couldn't already tell from my love letter above, I had such a wonderful stay with Mandarin Oriental Bodrum. I highly, highly recommend a trip to Bodrum in your near future and make sure to visit to this incredible slice of Paradise at Mandarin Oriental Bodrum!
Heading to Bodrum? Make sure to drop me a line below!