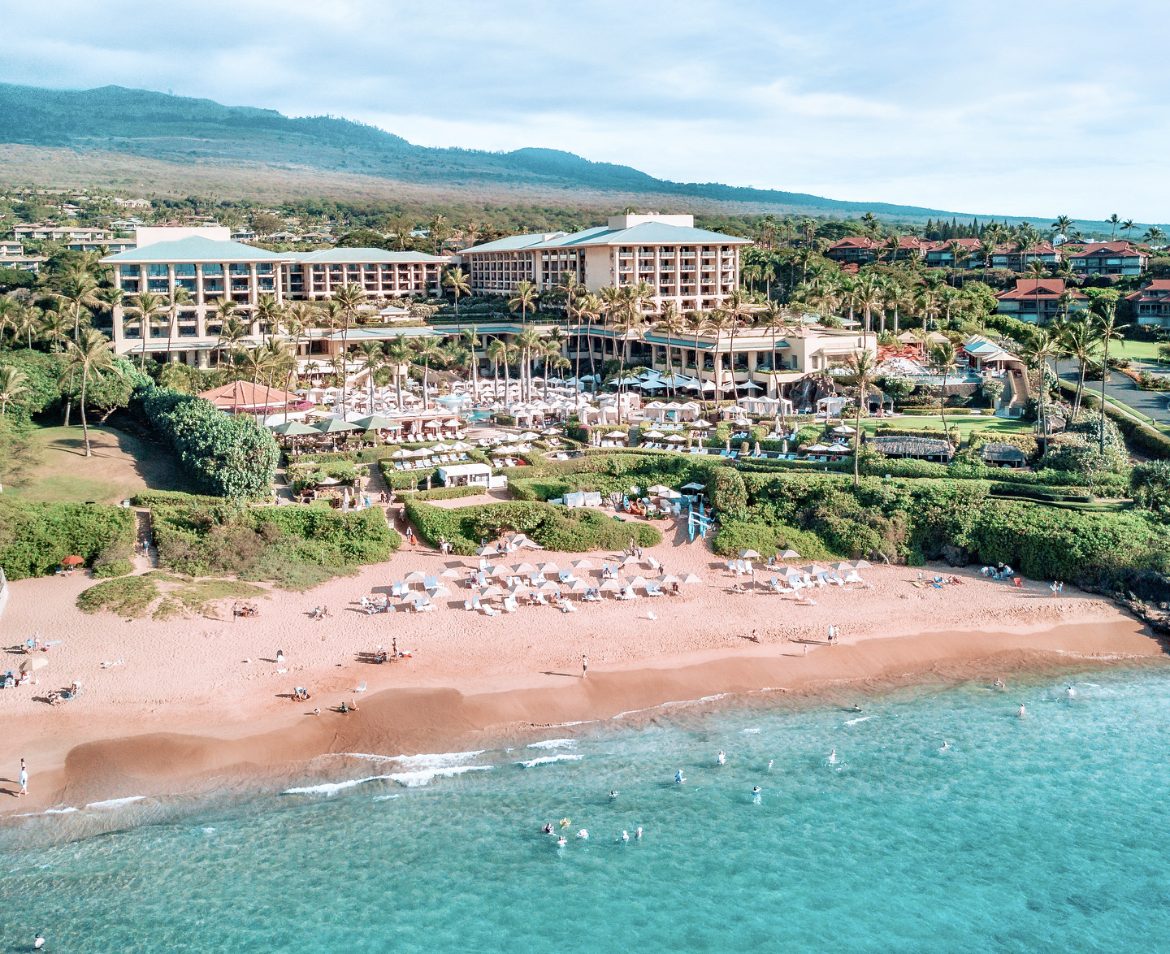 Four Seasons Maui
Located on the beautiful pristine shores of Wailea Beach, the Four Seasons Maui is one of the most sought after resort destinations in the world (it also happens to be the filming location for the popular HBO show The White Lotus 😊).
Being among the top visited Four Seasons resorts for the brand, both couples and families alike visit and return year after year. And it's to no surprise why. From the second you arrive to the resort, you know you have reached the pinnacle destination for Hawaiian luxury.
Being the very first! tropical resort by Four Seasons brand (followed by Nevis & Costa Rica), the resort originally opened its doors in 1990. It was the first of the four properties for the brand throughout the islands of Hawaii. And today, it is still regarded as one of their most prestigious.
With the Four Seasons Maui as now the 12th Four Seasons property we have visited, this resort has now easily made it in our top 3. Let me tell you why…
The Resort
Catering to every type of traveler – honeymooners, families, romantic couples, friends – there is an area of Four Seasons Maui designated for everyone.
For us, having traveled as a family with a young toddler, we found it exceptionally family-friendly without it being too family-oriented. This is especially important for us, as we love to enjoy quality adult time on our vacations just as well. Staff across the resort were always very friendly and welcoming with our little one. Whether it was brining a bucket of pool toys by to help occupy her or a cold treat to offer some respite from the sun, the staff always went above and beyond to accommodate our needs as parents of a busy toddler. This small extra mile certainly makes for a much more enjoyable vacation for a parent.
While we spent most of our days hanging out in families designated areas, you will find three different pool areas across the sprawling resort. Each with their own distinct atmosphere and vibe.
Waterfall Pool
For families with young children (like us), you will find the waterfall pool if the best option to spend your day. Surrounded by shaded cabanas, available for complimentary day use, it makes for the perfect family hang out. This pool has several tiers from very shallow for infants/toddlers to 4ft deep for the bigger kids and is packed with water toys. There is also a waterslide to keep the little ones entertained for hours. They also offer pack n' plays on demand, so no need to head to the room when nap time rolls around. The pack n' play fits perfectly between the loungers and with closed curtains on the cabana, it makes for a private and darker space with no distractions. With parents front of mine, they really thought of everything for this area of the resort.
Fountain Pool
Next, the grand fountain pool spans across the entire center of the resort. We found this pool catered more to families with older children, or guests who wished to stay central to the restaurants with ease of beach access as well Similar to the waterfall pool, the fountain pool is also surrounded by complimentary cabanas for day use. Service attendants are abundant and friendly, making it the perfect spot to post up for the day. Curtains on the cabanas can be fully closed for ultimate privacy.
Serenity Pool
Lastly, the breathtaking Serenity Pool – perched on a level above it all. This secluded adults-only infinity pool boasts panoramic views of Wailea beach, the neighbouring island of Lanai and Maui mountain. It is certainly the most popular pool amongst the adult crowd and therefore, not always easy to get a lounger for the day. With first come/first serve seating, adults line up starting at 6:45AM sharp in order to secure a prime seat for the day. As a parent, its the perfect place to retreat for the day (if you have childcare). And the best part, you can spy down on your little ones at the Waterfall pool below 😉
Wailea Beach
Certainly the most beautiful beach we enjoyed on all of Maui. Wailea Beach is pure perfection. With a shallow shoreline and calm waves, the beach is sprawling, allowing you to always find a quiet spot for claim for yourself. The resort offers a number of complimentary activities throughout the day. And if visiting in the winter season, you'll get the pleasure of viewing the humpback whale migration. Perhaps even from your SUP board. Quite the sight to see!
Accomodations
With a timeless and elegant design throughout the entire resort, the rooms leave no detail to be desired. With a total of 383 rooms, suites and residences across the property, the Four Seasons Maui is also a perfect destination for large group gatherings and corporate events.
We had the pleasure of staying in the Deluxe Ocean-View Room on an upper level floor. Spoiled with a large walkout lanai overlooking the Pacific, we had the perfect view of the sunset each evening of our stay.
Modern and well appointed, the room had plenty of additional space that we needed to settle in as a family for our 5-night stay. At 600 SqFt, it was spacious enough to add a crib with still having plenty of room to spare. The oversized marble bathroom was certainly a highlight. for me. The vast space allowed us to easily get ready together quickly as a family.
Restaurants/Dining & Entertainment
There are three main restaurants on the property with additional varying menus throughout each area of the resort (pool/beach, lobby). With several incredible dining options for every meal, you literally never have to leave the property (and we didn't!).
Duo
Open for both breakfast and dinner, Duo offers unique meal options with a Hawaiian touch.
For breakfast, the buffet spread leaves nothing to be desired. With fresh juices, fruits and typical breakfast fare, there is so many fresh options to choose from. Typically being a lover of a savoury breakfast, I could not resist the made-to-order macadamia pancakes – so delicious!
For dinner, Duo serves both steaks and local seafood options. I found many of the menu items were influenced by local and Polynesian/Asian flavours.
Ferraro's
Open for lunch and dinner, Ferraro's offers traditional italian dishes in an outdoor dining setting, with a stunning oceanfront view. Their handmade pizzas are to die for. Baked in a wood-fire oven, the flavours and quality taste just as authentic as Italy.
What makes Ferraro's even more special, is they are the only oceanside restaurant in all of Wailea. I came to appreciate our dining experience a bit more after finding this out one day during lunch.
Spago
Easily the best and most renowned restaurant on all of Maui, Wolfgang Puck's Spago is out of this world. Spago serves a variety of local seafood dishes, prepared with a local flare. The atmosphere is lively with panoramic views overlooking the resort and ocean – best seen at sunset.
Our best meals on Maui were without a doubt, at Spago.
Aside from the main three sit down eateries, the other areas of the hotel offer a different selection of dishes as well. I highly suggest dining in the Lobby Bar. With nightly entertainment, it is great for a casual dinner. Especially if you are able to catch the weekly Dim Sum offering flown in fresh from Oahu.
Resort Entertainment
While Maui is generally known for very quiet night scene, you certainly wouldn't know it when staying at the Four Seasons Maui. With nightly entertainment ranging from live Hula performances, to fire shows to live music in the lounge, there is always something lively happening around the resort to enjoy. That said, the night does still wind down fairly early, but it's certainly not a bad thing when traveling as a parent to little ones – no FOMO 😉
Be sure not to miss the nightly torch lighting ceremony. Each evening at sunset, a conch is blown at the main fountain to signal the beginning of the ceremony. This is then followed by the first torch lighting and a parade around the resort (the kids love to follow) to light each of the resort torches. It's very enjoyable to be a part of and it's a nice touch of Hawaiian culture to experience during your stay. The added bonus is the kids absolutely love it – so it's a great way to entertain them before dinner as well.
Kids for All Seasons & Childcare
Like all Four Seasons resorts, Kids For All Seasons (KFAS) is the top notch destination for fun for the little ones. However, I will mention that if you have visited a Four Seasons property before, and were use to dropping your toddler off, this is no longer an option due to COVID. They have a strict age 4+ policy in effect and as such, kids under the age of 4 are not allowed to enter KFAS. Not even with parent/adult supervision.
That said, there are alternative childcare options. From my experience, I would advise to book this service well in advance of your stay. Having childcare arranged in advance will certainly help to avoid disappointment.
The aforementioned childcare services are through a third party company. However, the nannies frequent the hotel for childcare jobs and for us, almost felt like an extension to the hotel services.
Happy Kids
While there are other options, we ultimately had the best luck with Happy Kids. We were fortunate enough to get Nanny Sue who was incredible with our little girl. The fees with Happy Kids are a one time booking fee of $40 and then $25/hour for a minimum of 3 hours.
Spa & Wellness (and PCR tests)
A Four Seasons stay is never complete without a trip to the spa. And we saved the best for last by ending our stay on a high note. On the final day of our trip to Maui ahead of a grueling 10 hour flight home to Toronto, we decided to take advantage of the Four Seasons Maui spa.
With traditional Hawaiian treatments, the spa is its own little sanctuary within the resort. I enjoyed a prenatal Lomi Mohala Massage which couldn't have been more perfect for my rapidly expanding pregnant body. It was the perfect balance of a gentle but firm relaxing massage. Leaving the treatment room a new woman – incredibly relaxed and enveloped in the scent of sweet coconut.
Following the treatment, I spend an hour relaxing in the soothing lounge. I left feeling so refreshed and my visit was the cherry on top of an already perfect stay.
NextHealth
NextHealth is an interesting addition to the Four Seasons wellness and spa landscape. Offering a range of IV vitamin drip therapy options, NextHealth helps you to rejuvenate your internal systems and leaves you feeling recharged and rehydrated with stronger immunity. Unfortunately, due to my pregnancy, I was unable to take advantage of their services, but it is a concept I am familiar with and love.
With having done IV drip in the past, I could only imagine the additional benefits of having the therapy done in paradise with a beautiful view of the oceanside. I will be sure to enjoy their services on my next visit to Four Seasons Maui.
NextHealth also offers in hotel PCR tests (required for departure for some travelers) at a cost of $250USD. The process is 100% seamless and our results were delivered to our email within 15 minutes of the test. Although pricey, it was a great option for peace-of-mind for our departure back to Canada. And it couldn't have been easier to book with a same-day appointment and have it done at the hotel.
Fitness Center
Definitely one of the most unique resort fitness centers I have enjoyed within the Four Seasons resorts. With both an indoor and outdoor space, it was perfect for getting a workout in, while still enjoying a perfect day on Maui. The outdoor space is where you will find all of the cardio equipment, treadmills, ellipticals and Peloton bikes – my favorite! While some may not like the idea of doing cardio outdoors, I can certainly tell you, it was a lot more enjoyable than wearing a mask. Due to the open air concept, masks were not required to use the equipment and there are plenty of fans around to provide a breeze and keep you cool(ish).
In the indoor space, you will find the weight training facilities equip with all the machines you could imagine. In this area, masks are required but it isn't as bad as running on the treadmill with your breathing constricted.
Resort COVID Protocol

The Four Seasons Lead With Care program really stands out as being at the forefront of guest safety during this pandemic. Lead With Care provides enhanced health and safety measures with guests' health being top of mind.
It is clear that necessary precautions are taken without totally transforming the guest experience. Since Four Seasons Maui is mostly open-air, wearing a mask is not mandatory in most spaces and restaurants. However, in the closed areas, such as elevators and guest room hallways, masks are expected to be worn.
Personally, we felt no imminent concerns at the resort regarding COVID. With Maui having extremely low case counts, and with all visitors requiring a negative PCR or fully vaccinated status, COVID was not a worry we took with us on vacation. Being at Four Seasons Maui almost made us forget about the worries of the pandemic back home.
Four Seasons Maui – In Summary
Overall, the Four Seasons Maui resort is the ultimate Hawaiian luxury experience. Our stay with Four Seasons put the cherry on top for our visit to Maui and guaranteed a return visit in the future. As I mentioned earlier in the post, the FS Maui has definitely made it into our top 3 resorts from the brand. With everything you need for an impeccable vacation experience, there is no detail left to be desired.
If you get the chance, I truly hope you make it to this perfect slice of luxury in Hawaii. I'm sure it will be as unforgettable for you as it was for us.
Thank you FOUR SEASONS MAUI!