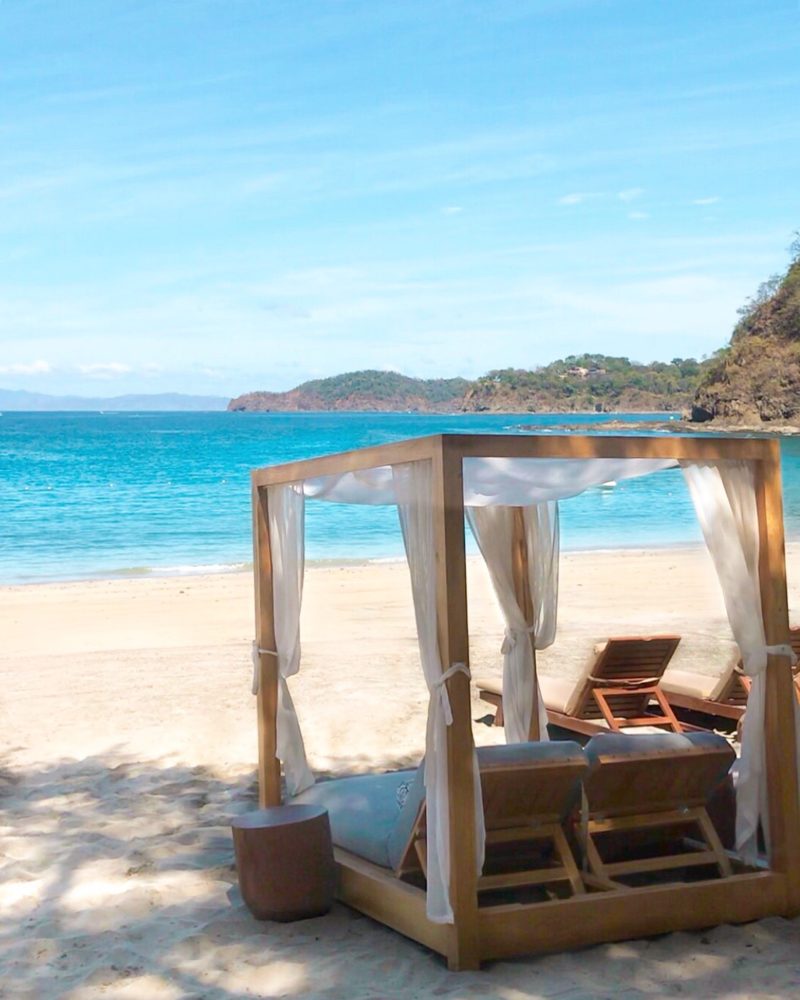 When I think of Costa Rica the first few things that come to mind are nature, wildlife, adventure and of course, Pure Vida! Before visiting this eco-paradise for my first time in December, my husband and I had dreamt about this incredible Central American destination for as long as we could remember. It was surreal when we finally made it a reality and booked a stay with the incredible Four Seasons resort in Papagayo for our New Years Eve holiday.
After some airport mishaps including a missed flight, a canceled flight and finally a brand new flight on a totally different airline, we alas set off for the vacation of our dreams. We flew direct from Toronto, Canada into the small city of Libera on Costa Rica's west coast. Upon arrival, we almost immediately adapted to the Pura Vida way of life. The sun was just setting over the mountainous landscape and the sky was beautifully lit with every shade of sunset making for such a memorable drive to our long-awaited final destination.
Arrived to Paradise
If you have ever had the chance to stay with a Four Seasons hotel or resort, you know the check-in experience is like no other. You are warmly greeted by name and welcomed with a refreshing drink and chilled towel while you hand over your credit card and passports and wait comfortably to be handed your keys.
Being the high holiday season, the resort was operating at full capacity but this did not mean the service had any gaps. We were promptly handed our keys and escorted to our beautiful eco-luxury suite. Being dinner time at this point, we were quite hungry and went quickly from our suite to enjoy an incredible dinner at Bahia, their Latin-American restaurant serving tasty local dishes. Needless to say, our first meal in Costa Rica was outstanding!
The next morning eagerly woke up to check out the property in daylight. We got hopped out of bed and quickly made our way around the HUGE resort and finally to the beach to check out the stunning view. The weather was outstanding (no wonder why everyone wants to travel here in December!) and the views were epic, we knew for sure we were in for a treat for our week in Costa Rica.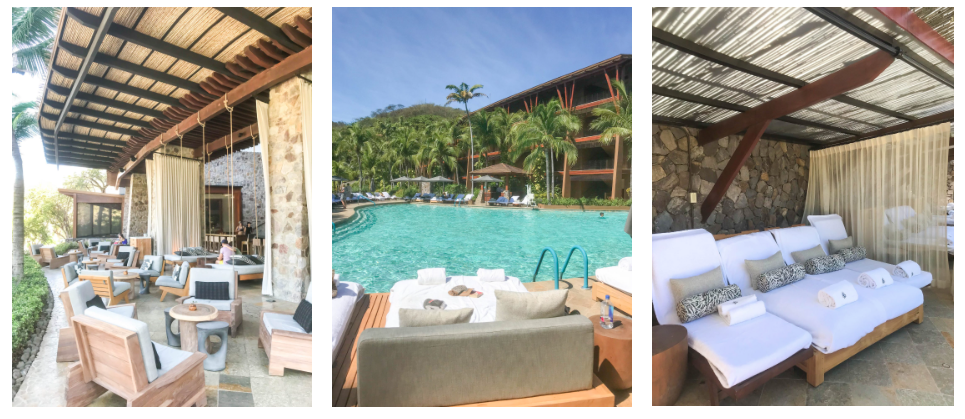 Newly Renovated
Before our arrival in late December, the resort had just completed a drastic 35 Million USD renovation a couple weeks prior combing modern luxury with an eco-friendly design representative of the natural Costa Rican habitat. Having been still been tastefully decorated in sparkly lights and Christmas cheer, the vibe was definitely somewhat of a festive eco-luxe.
The resort boasts a fully open-concept design that is well dressed in an all-natural colour palette featuring unique local touches. Being at full capacity, the resort was certainly bustling with happy guests but that didn't mean we had any problems getting a seat for breakfast or finding a prime location for some afternoon sun whether on the beach or next to one of the four refreshing pools.
Impeccable Service
The service throughout the property was second to none, we were always promptly tended to making sure our every need was met. And as you can expect at all Four Seasons resorts, you are catered to all day long with yummy offerings of smoothies and snacks to keep your palate entertained.
Since we were escaping the cold Canadian winter, we spent most of our time on the beach soaking up the rays but certainly made sure that we experienced some of the resort's great amenities. There are tons of daily activities and options to choose from that will keep you busy throughout your day, they have daily wellness activities including yoga, water sports, biking, tennis, and a fabulous Arnold Palmer designed golf course (my husbands favourite!). Not to mention, they also arranged a number of volunteer activities should you wish to get off the resort get involved with some local community initiatives – such a heartwarming offering.
On one of the days, we grabbed some bikes and did a tour around the full property seeing some magnificent views and wildlife along the way. We found a great spot to camp out and make use of our brand new drone – we couldn't believe our eyes as we flew it around the sparkling peninsula coastline. During our flight, we found what looked like a secluded beach and navigated our way to it so that we could relax and watch the perfect Costa Rican sunset.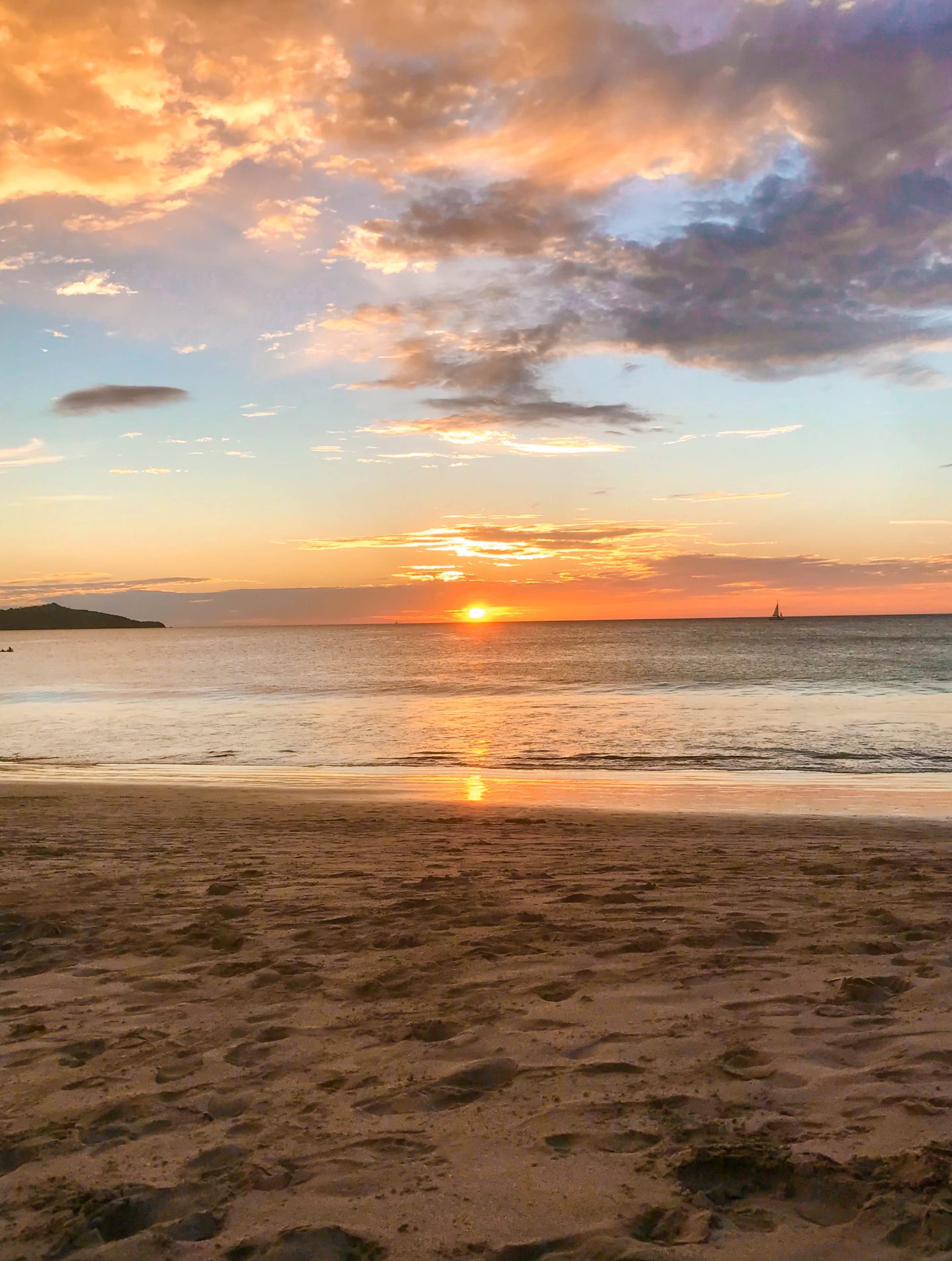 While we only spent two short days at this incredible resort before continuing on to our next destination in Tamarindo for New Year's Eve (which, by the way was EPIC), we know its a place we will return to one day and hopefully soon. I would highly recommend Four Season Costa Rica for the perfectly balanced vacation, combining both relaxation and wellness with the epic adventures Costa Rica has to offer.
A couple of general tips for Costa Rica travel would be to definitely get out and explore, while the resorts are fantastic, the real culture and adventure is going to be experienced off the resort. We rented a car for the duration of our trip and drove down the Western coastline making stops in the vibrant beach towns along the way and getting the full cultural experience. And if your travel plans are during their high season (Dec – Mar) like ours were, make sure to prebook any activity you wish to experience while you are there as they all fill up fairly quickly – this would include the zip lining, volcano/waterfall tours, white water rafting etc.
Costa Rica was such an unforgettable destination and left us already planning our next return to this incredible country!
PURA VIDA!