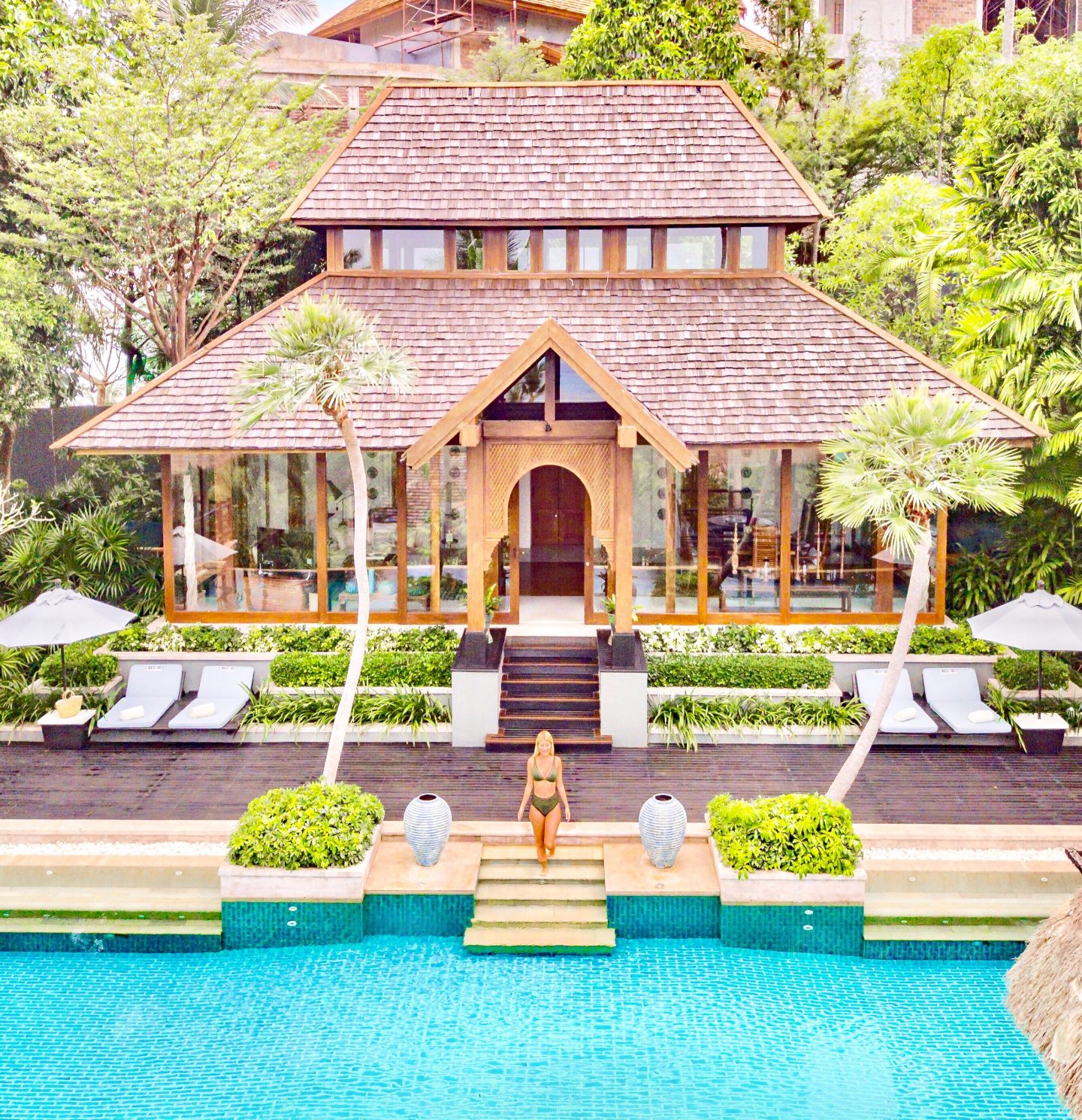 Set in a steep lush hillside, away from it all, is the exotic paradise resort of Four Seasons Koh Samui.
As my last stop on my trip through Thailand, the Four Seasons Koh Samui was the ultimate ending to my wonderful journey through this beautiful country.
Thailand is home to three stunning Four Seasons properties throughout the country. They have one in the North in Chiang Mai, one in the city of Bangkok and one on the islands. Being the only beach resort by the brand in Thailand, the Four Seasons Koh Samui is the most Southern of the three and situated on what might be the most pristine coast of the Thai islands.
Their ultra-luxe villas, with sweeping views of the Gulf of Siam, make it impossible to leave. The Four Seasons Koh Samui was just what I needed to sum up an incredible first trip to Thailand. Originally planning to spend only two nights, my stay quickly turned to five after getting comfortable on the beautiful island.
The Four Seasons Koh Samui is by far the most luxurious beach resort in Thailand.
The Resort
Upon our arrival to the resort, we were welcomed to their check-in lobby where the main doors were opened greeting us with a breathtaking panoramic view of the Siam Gulf. As always, we were warmly received by their attentive staff and offered a wonderful cocktail to enjoy while basking in the views as they seamlessly completed our check-in. The warm welcome and magnificent view from the lobby gave us a taste of what we were yet to experience with Four Seasons Koh Samui.
After checking in we did a brief tour of the expansive property. The resort is strewn over a spectacular tropical forest cliffside offering incredible views from every vantage. Because of the super steep terrain, getting around by buggy is the preferred option. The resort grounds are beautifully landscaped and meticulously manicured. They have a talented team in place ensuring their surrounding natural forest is well taken care of.
At the bottom of the cliffside you arrive to their pristine beachfront. With powder white sand and calm turquoise waters it's quite possibly the most idyllic beach on the island. The beachfront is lined with tall coconut palm trees and enclosed in natural rock and forest, making it an awe-inspiring tropical paradise.
Luxurious Villas & FS Residences
From the beachfront up the cliff are all of the guest villas. Ranging in size from one bedroom to four, their villas are generously spacious with superior elegance and comfort.
We checked into the One-Bedroom Pool Villa and it overly exceeded our expectations. The villa is thoughtfully planned with generous indoor and outdoor space. The indoor space has tall airy ceilings and three separate living areas for maximum comfort.
The one-bedroom opens to a shared dressing room with his and her sinks finally carried into the bathroom. From both the bathroom and bedroom, there is floor to ceiling windows opening up to the terrace with private plunge pool. Because of their cliffside location, all villas are exceptionally private and offer breathtaking views of the gulf. (See a video tour of the villa here)
FS Residences
If you require more space, there are plenty of options to choose from. Offering up to four-bedroom options, you may opt to stay in one of their enormous residence villas. With separate living and sleeping space, these villas are ultra-luxurious and large enough to fit up to 15 of your favorite people. The residence villas come with their own kitchen and dining area, living space and live-in 24/7 attendance. They make it so convenient, you may never have to (or want to) step outside of your villa.
Paired with the enormous indoor space, there is an equally large outdoor space with a large pool deck and lounging area. The pool is vast offering exquisite infinity views of the sea and the surrounding forest. There are many areas to enjoy lounging in the sun or shade.
My husband and I promised to return to stay in one once our family grows. We could not imagine a better villa to accommodate a traveling family.
After touring three villas on the property, I can confidently say that the villas at Four Seasons Koh Samui are certainly unmatched. They are quite possibly the best of the best in Thailand and may be a close first to any other Four Seasons resort villas in the world (that I have yet to see anyway, and I have been to a lot ;)).
5 Star Resort Dining
Along with the uber-luxurious resort of course comes five star dining and cuisine. There are two fantastic restaurants on-site. KOH, which is located at the steepest point of the resort on the hilltop and PLA PLA next to the beach.
KOH Thai Kitchen
Dining at KOH is certainly a treat with panoramic views of the resort. Breakfast, lunch and dinner are all served at KOH with fresh options daily. The breakfast at Koh offers a variety of tasty selections from both the buffet and a la carte menu. With their shaded outdoor seating, it is the perfect spot to start your day in paradise basking in the beautiful views.
For dinner, KOH offers a selection of nightly menus. Be sure to make it in for their Thai night where they have flavours from all over Thailand. Paired with dinner is some traditional Thai music and entertainment to give you the full cultural experience.
Dining at PLA PLA
PLA PLA, next to the beach, is casual by day, chic by night. For the daytime menu, they serve a Mediterranean-style fare with fresh salads, pizza and pasta. Perfect for dining next to the beach. The vibe changes at night and the menu expands to offer a more exquisite range of options. With the recent addition of Chef Ivo Benidio, the restaurant is taking a fresh new direction with the introduction of his creative touch. He is keen on sourcing almost everything on the menu locally, especially the seafood, creating the freshest dining experience.
My husband and I had the pleasure of a dinner with creations personally curated by Chef Benidio. Our 7-course meal left us beyond impressed with the talented Portuguese chef and left us curious for where Chef Benidio will take the PLA PLA menu in the coming months. His talent gathered from his experience in Michelin-star restaurants around the world and high-end hotels really puts the spotlight on PLA PLA.
Dining at PLA PLA was the highlight of my stay with Four Seasons Samui and I highly recommend stopping in for a fabulous dinner.
Resort Bars
In addition to the fantastic restaurants, there are a number of bars to enjoy some daytime or evening cocktails. Unfortunately on this trip I was 5 months pregnant at the time, however I did make sure to enjoy some delicious mocktails. Cocorum, next to the infinity pool, is a great spot to hang out during the day and enjoy a cold drink. Next to Cocorum is their famous Rum Valut. The Rum Vault pairs perfectly with the tropical ambiance and is Asia's first and only library of rums from across the world.
Keeping Busy at Four Seasons Koh Samui
Aside from lounging on the beach or swimming in the beachside infinity pool, there is plenty to do to keep busy at the resort. Each week an activity schedule is prepared including Muay Thai classes, Paddle boarding, pilates/yoga and movies under-the-stars. Off the resort there is also plenty to experience as well. By simply messaging the concierge via the Four Seasons App during your stay, you can book anything like a visit to the Elephant Sanctuary (highly recommend!) to a half-day trip to see Big Buddha.
On the beach there are a number of water activities to enjoy as well. With kayaks, paddle boards, boats and snorkels water lovers can be sure to enjoy the crystal blue waters.
If you are a spa-goer like me, you will be happy to know they have a wonderful spa onsite. Embedded in the lush tropical forest is their Secret Garden Spa. They have a number of amazing treatment options all while relaxing with the sounds of nature. The spa experience is so wonderful that will keep you coming back for more (literally, we went 3 times ????).
Treat Yourself
Overall, we had a fantastic stay with Four Seasons Koh Samui and vowed to return again someday. As always our stay left us relaxed, recharged and full of amazing memories of Koh Samui. Their stunning resort and impeccable attention to service and detail made for yet again, another flawless stay with Four Seasons.
If you are looking for luxury and elegance paired with the colourful culture of Thailand, make sure to choose Four Seasons Koh Samui for your stay in Thailand. I highly recommend this resort for couples traveling one a romantic retreat or for families looking for a quiet place to enjoy some quality time together. The Four Seasons Koh Samui will not disappoint!