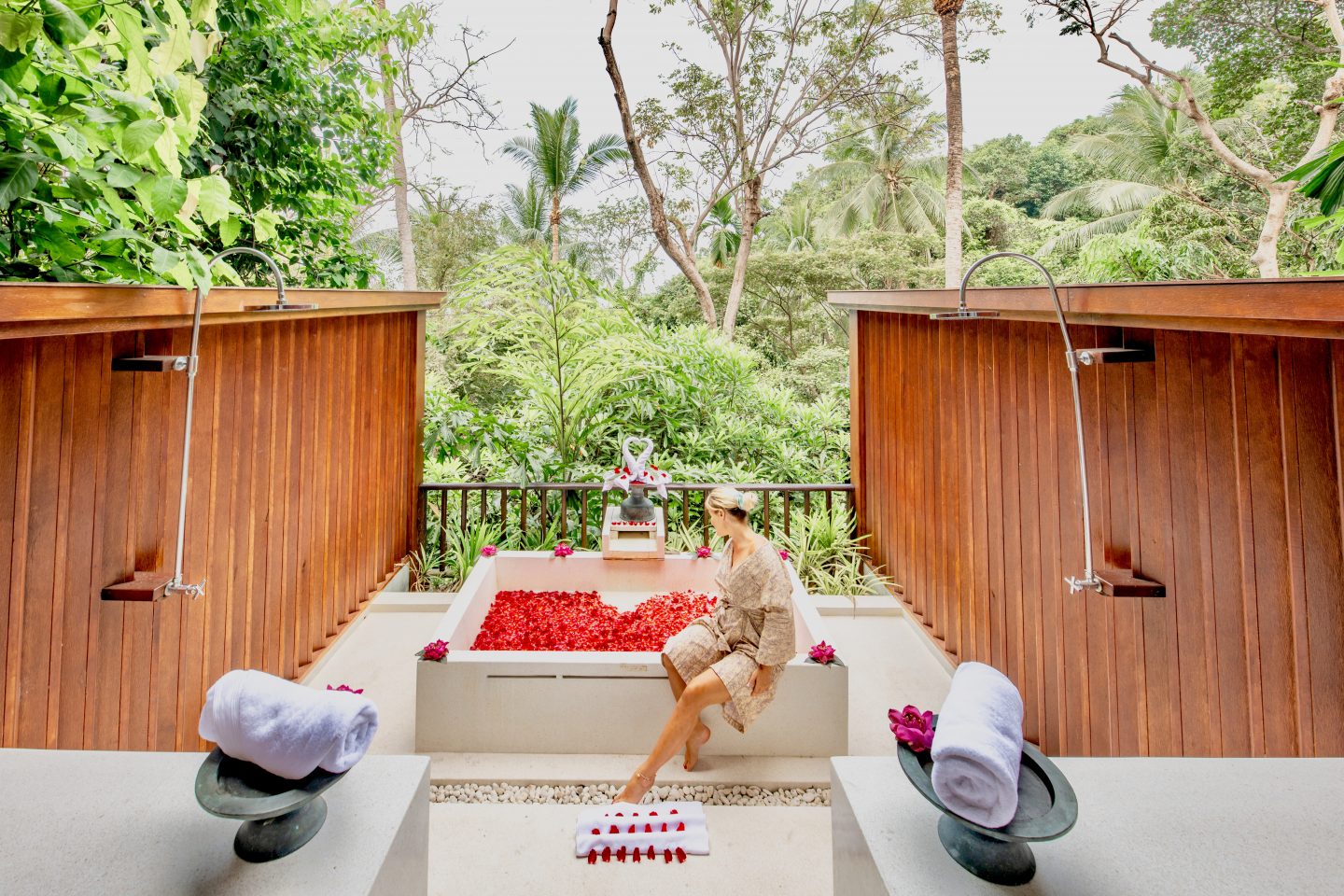 Secret Garden Spa
As the spa name suggests, the Secret Garden Spa is tucked within the lush tropical forest of the Four Seasons Koh Samui resort. Surrounded by nature, the spa instills a sense of relaxation easily achieved upon arrival. Treatments at the spa are focused around ancient Thai massage rituals and using only natural ingredients for each treatment.
Upon arrival to the spa pavilion, my husband and I were warmly welcomed and greeted with a soothing butterfly tea and refreshing towelette. We met with our therapists to choose our customized treatment and were whisked away through the forest into our luxurious spa villa for two.
Our Spa Treatments
Our treatments began with a traditional Thai ritual that involves washing of the feet. The ingredients used were a combination of coconut oil, rice flour and lemongrass and after only a 5 minute soak and massage, our feet had never felt softer. We were both amazed by the natural concoction and how it left our tired feet feeling completely rejuvenated.
Following our delightful foot bath, we were escorted into the main area of the villa to get comfortable for our massage. My husband chose a deep tissue massage, as he had been carrying heavy bags from traveling on his back. I opted for a prenatal massage intended to release tension and assist with lymphatic drainage.
It didn't take long before total relaxation to set in. My therapist knew exactly where to focus the attention and was mindful of my pregnant tummy. After an hour of pure bliss, listening to the sounds of nature while being enrobed with soothing coconut oil, I finally came to feeling better than ever. My husband and I both agreed that our power hour was not nearly enough.
Attention to Detail
At the end of our treatment, we were welcomed back to the spa pavilion with another warm butterfly tea. Having raved about how much I enjoyed it pre-treatment, the ladies at the front desk had prepared a package of loose leaf tea for me to take home. They shared their recipe and told me the best times to enjoy the magical colour-changing tea.
Also in the bag, to my surprise, were two sachets of foot concoction we had been overly impressed with. Turns out our therapists had let them know to send us with some as well. Their attention to service and detail went above and beyond our expectations.
We decided on the spot we had to come back and booked appointments for the following day.
The Next Treatment
Our visit to the spa left us on a 'spa-high' and as we spoke with guests around the resort, we weren't surprised to hear similar experiences. The ladies at the Secret Garden made lasting impressions and kept you wanting to return for me.
For our following treatment, we were sure to request 90 minutes instead of the previous 60, and with our same therapists from our first visit. They were too good ❤️.
Our next visit began with a wonderful coconut milk bath to help sooth the skin prior to treatment. Our spa villa was beautifully decorated with flower petals and romantic details that our therapists encouraged us to enjoy. We were touched by their overly sweet gesture and again, remarkable attention to detail.
The bath was exceptionally relaxing and a nice added touch to the already wonderful spa experience. It also made for the perfect photo-op with their beautiful set up among the natural surroundings.
Needless to say, we had another blissful treatment and couldn't have asked for anything better.