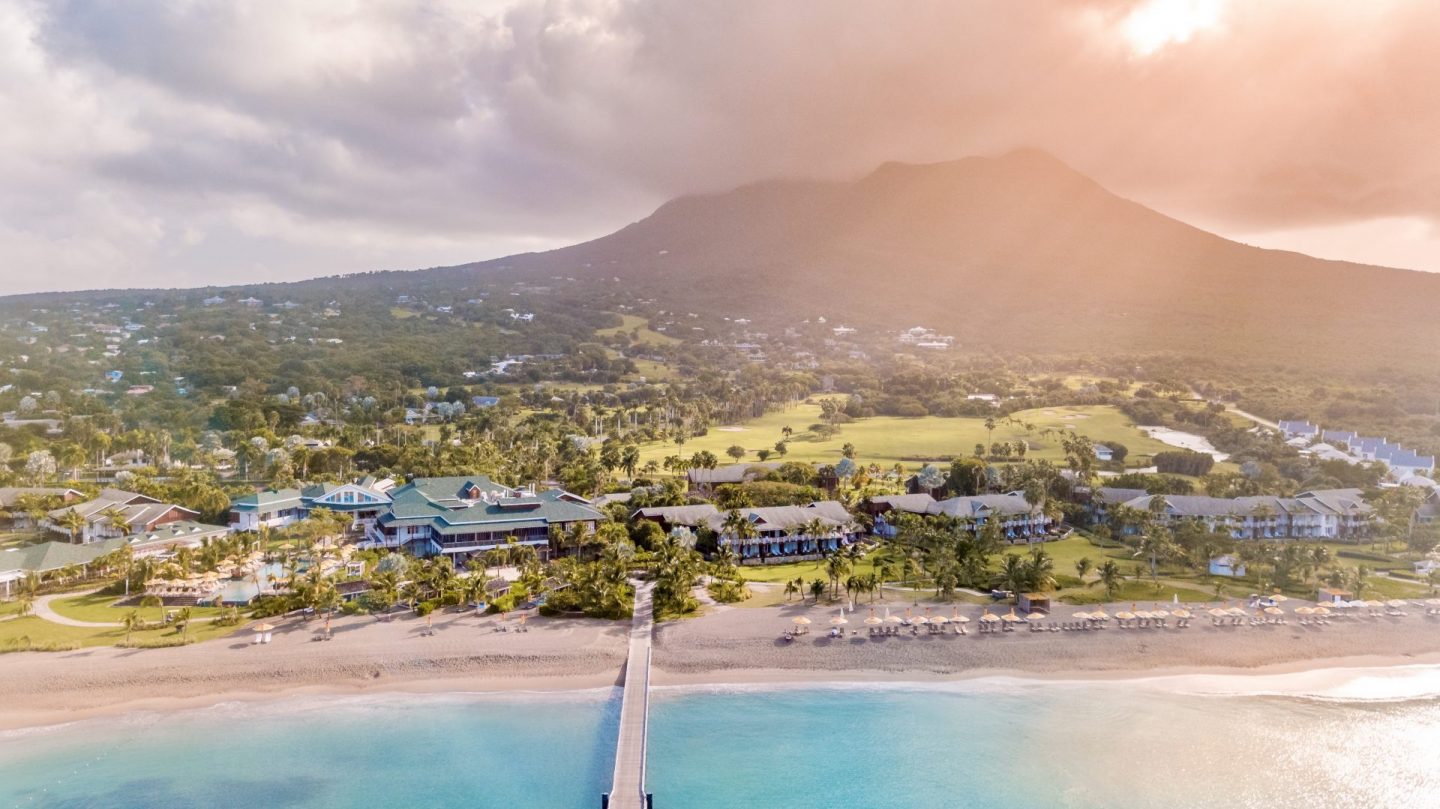 Four Seasons Nevis
Since the birth of my daughter, traveling has changed a bit for me. I use to think 'the farther, the better ' and countries in Europe, Asia and the Middle East were my preferred travel locale. However, recently I've been enjoying shorter flights and traveling to unique destinations in the Caribbean. As such, during my more recent travels, I uncovered a total gem at the Four Seasons Nevis.
Have you heard of Nevis? (nee-vis) Its the smaller of two islands that make up the nation of Saint Kitts and Nevis. Located in the West Indies, neighbouring the islands of Antigua and St. Maarten, Nevis is a relatively unknown destination to many. Those who know about it tend to keep it a little secret and after visiting, I can see why. The Four Seasons Nevis has been on the island for 28 years and is a popular spot for couples and traveling families who seem return each year for the reliable R&R.
Getting There
While the airport is quite small, many airlines come in and out of the SKB airport each day in St. Kitts. If traveling from the US, daily flights are offered via Miami. And from Canada, twice weekly flights are offered on Tuesdays and Saturdays from Air Canada.
We wanted to include another island on our trip to the Caribbean, so we made a stop in Antigua for a few nights before heading to St. Kitts and Nevis. This is a great option if you want to visit a neighbouring island and it was a quick 15 minute flight via Liat to St. Kitts and Nevis from Antigua.
Once landed in St. Kitts, getting to Nevis is quite seamless with the Four Seasons. Resort personnel are at the airport to greet you upon your arrival. You are whisked away to Christophe Harbour where a boat is waiting to take you across to their secluded paradise. The boat ride is a quick 10-15 minutes – long enough to enjoy a local beer or a Ting – and as you arrive to the pier of Four Seasons Nevis it begins to feel like you are no longer in the Caribbean.
The Resort
With a recent renovation completed in late 2019, the resort is immaculate. While still keeping the old Caribbean charm intact, wonderful enhancements have been made all across the property. The resort is vast and stretched along Pinney's Beach with low rise gingerbread-style cottages nestled behind. Upon arrival, you are immediately greeted by their sparkling white sand beach and striking view of Nevis peak in the distance.
Following the completed renovation, the lobby in the Great House has become an interior designers dream. Pops of colour with tropical plants strewn around the pastel-coloured vestibule stood out to me as the masterpiece of the resort's redesign
There are three pools on the resort, the highlight being their newly added infinity pool. The Limin' pool is built upon a sleek hardwood deck and overlooks the beach with a direct sightline from the main lobby. The laid back vibes with a pop of tropical colour make for the perfect spot to post up for the day.
Their larger of the three pools caters to adults-only. I never got to spend much time at the resort without my baby in tow but I can attest to it being the perfect spot to enjoy splash-free relaxation while soaking in the dual views.
The resort features an 18-hole golf course built upon the mountain side where you are guaranteed to see many furry friends along the way ????. If golf isn't your thing, they have something for everyone. Tennis, shuffleboard, a mini-oasis spa, you name it – all at your daily disposal.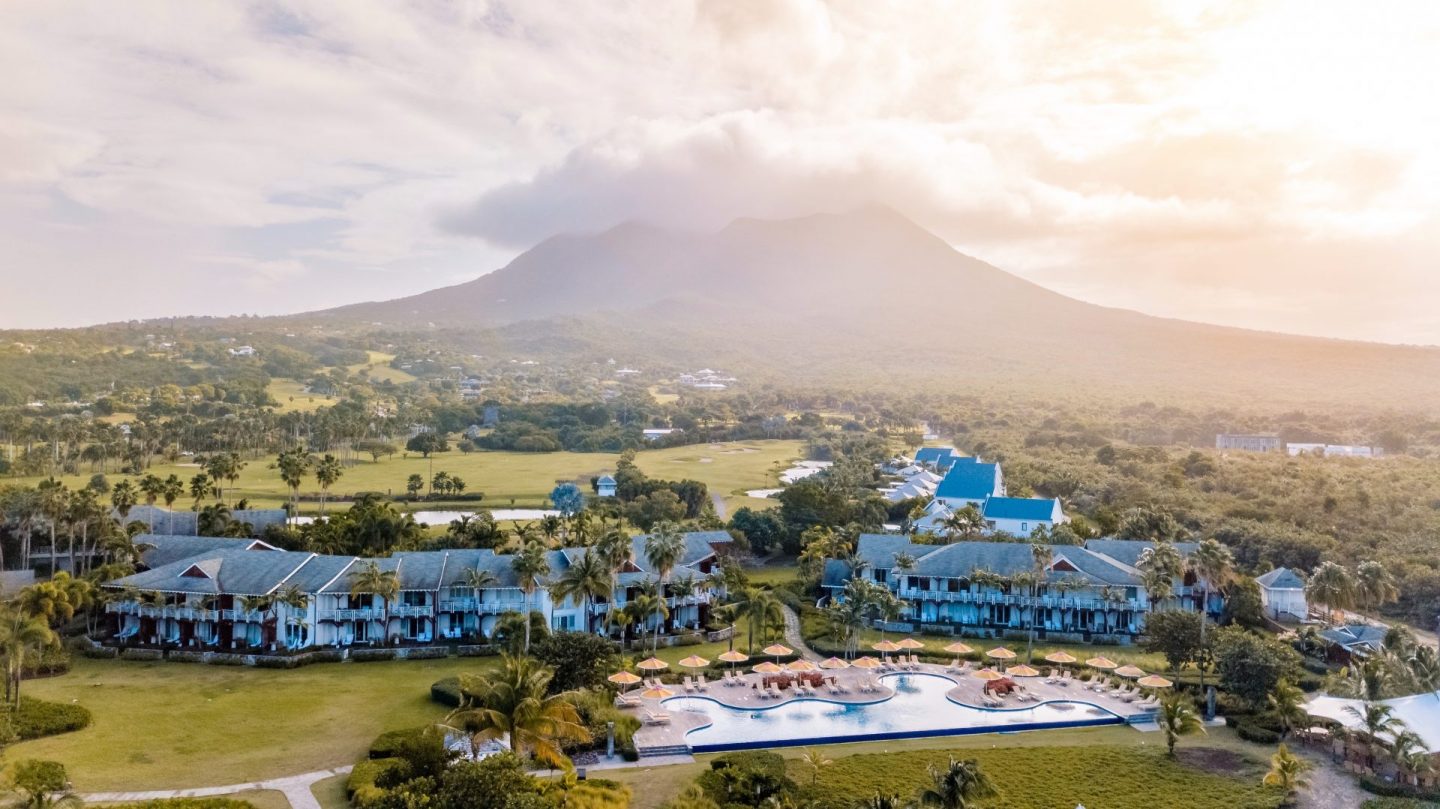 Guest House Accommodations
As part of the multi-stage renovation project, FS Nevis has completely redesigned the guest rooms and suites. The previously darker furnishings paired with colourful walls have been refreshed with a much brighter and airy design. Tropical accents beautifully embellish the all-white furnishings and blend seamlessly with the turquoise ocean view. Each room has a direct view of the sparkling ocean that you can enjoy on your private terrace.
For the beginning half of our stay, we enjoyed the comfort and convenience of the guest house accommodations. The two-storey cottages line the resort's stretch of beach putting you in close proximity to everything on-site.
To make you feel even more at home, each guest house cottage has a laundry suite. This is particularly helpful for longer stays and those traveling with children.
The Residences at Four Seasons Nevis
If traveling as a family or desiring a more private escape, the Four Seasons residences are the perfect home away from home. With villas ranging from 2-bedroom to 7-bedrooms, there are a number of options to choose from. All uniquely designed with fantastic outdoor space – each located in their own little neighbourhoods of the resort.
Saving the best for last, the latter half of our week with FS Nevis was enjoyed in a newly built Pinney's Beach villa. The villas are immaculate! Abundantly spacious with indoor and outdoor living space, two main floor bedrooms and a master suite on the second level, it is a 4,000 SqFt dream come true when it comes to accommodations.
The villa decor is sleek contemporary with floor to ceiling windows in the main area, sprawling open spaces and high ceilings. Seamless indoor and outdoor living space seems to be the theme of these villas. The main living area opens up to the lush private terrace and plunger pool with a direct view of Nevis Peak.
The Pinney's beach villas are a short walk from the main hub of the resort, located next to the golf greens. For convenience, a golf cart is included with each villa for personal use.
While there are many villa options to choose from, the Pinney's Beach Villas are sure to please! We were beyond impressed with its sleek design and great functionality when traveling with our baby.
To see a full tour of the villa click here
Lastly, the Cuisine
As with any Four Reasons resort, you can expect delicious cuisine. Beginning with breakfast, the spread was always fresh with a vast selection each day. Being my favorite meal of the day, I truly enjoyed the buffet plentiful in both healthy and hearty options.
There are four restaurants on the resort, each with a different vibe. EsQuilina, located in the main building, serves mostly Mediterranean inspired dishes. Their tapas-style plates make it great for sharing . For something more romantic with Caribbean flare, dinner at Mango is the spot. Set next to the sea, you can listen to the waves roll in while you enjoy some local Nevisian dishes and locally-inspired cocktails by their master mixologist.
Their new concept, On The Dune, was our favorite (for both lunch and dinner). On the Dune is an open-air, beachside restaurant open for both lunch and dinner. Relaxed by day with a more upscale at night, On the Dune serves tasty plates ranging from fresh ceviches and local seafood to USDA steaks prepared on a char grill.
For anyone with dietary restrictions, all restaurants feature both vegetarian and gluten-free options. As someone who is trying to reduce my meat consumption, I was happy to find a lot of delicious vegetarian options including a Beyond Meat burger on the lunch menu. There is something for every palate.
Lastly, each night on the pier is Happy Hour! With 1/2 prices drinks and oyster specials, it is a great option to get the evening started.
Childcare at Four Seasons Nevis
When traveling with children, or like me, a small infant, its worth mentioning that the childcare at Four Seasons Nevis is top notch.
The initial thought of leaving my 5 month old daughter with someone other than family for the first time was slightly daunting. Fortunately, I was able to get past the fear and left her with a wonderful woman named Brenda for an afternoon while her dad and I enjoyed a few hours at the spa. Brenda has been with the resort for 27 years and made us feel comfortable right away. She told us heartwarming stories about how she has watched children grow from babies into young adults throughout her years working with the resort. Our daughter immediately gravitated to her and I couldn't have felt more at ease.
We had such a great experience, we decided to hire her a second time so that we could enjoy a dinner to ourselves.
You can choose to have one-on-one child care for a very modest fee or have your children (toddler age and above) hang out for the day at their newly built childcare facility in the middle of the resort. The child care center offers daily programs and educational activities suitable for all ages ranging 3-9. I overheard one boy proclaiming his mom he didn't want to leave because he was having such a good time playing with his new friends. Its such a great option for parents to be able to enjoy a bit of a vacation too.
What are you Waiting for? ????
Overall, we had a wonderful time visiting Four Seasons Nevis. This tiny little paradise island took us by surprise and really stands out as being a true gem in the Caribbean. We felt welcomed with our infant daughter and the staff went above and beyond to accommodating all of our needs.
If you are thinking about booking a stay with Four Seasons Nevis, do not hesitate. You are sure to have a wonderful and memorable stay on their perfect slice of paradise and like me, I am sure you will plan to be back again one day.