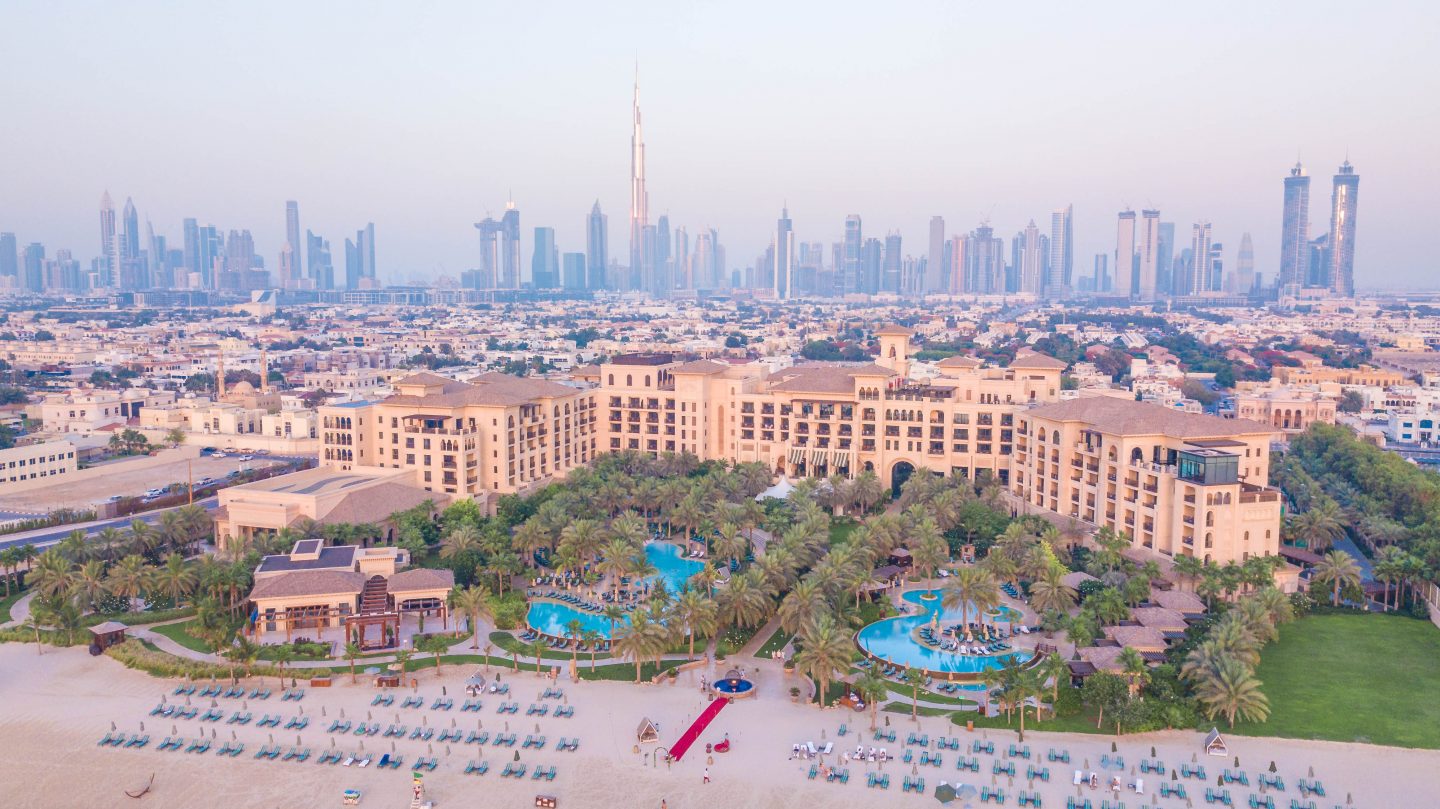 Each time I take a trip to Dubai (which has been 5 times and counting!), I have always liked to check out a new area of the city and have stayed in a different hotel each time. However, the Four Seasons Dubai at Jumeirah Beach completely changed that for me – I think I have now found my home away from home in beautiful Dubai.
With all things considered such as location, property, service and amenities, the Four Seasons Jumeirah Beach has definitely taken the crown for me. Not that other hotels in Dubai aren't great, because everywhere I have stayed has been amazing, but from the total package perspective, the Four Seasons property has it all.
Arriving here following a full three week trip through the Middle East summed up to be the perfect ending to an unforgettable trip.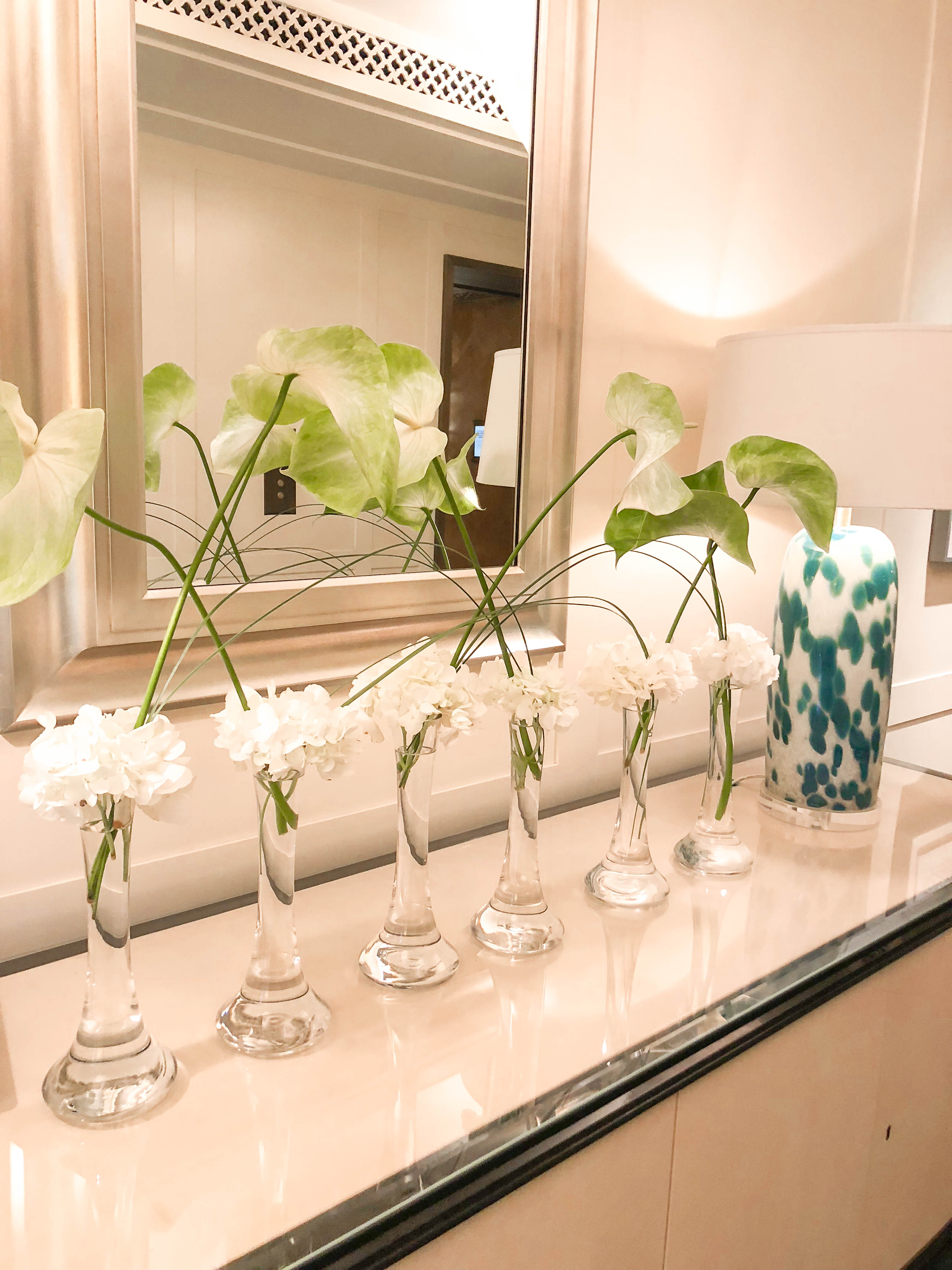 Perfect Location
This prime location in Jumeirah Beach cannot be beaten. The Four Seasons Dubai Resort is perfectly situated between the major downtown attractions and the leisurely stretch of the Jumeirah beach strip including Dubai Marina and the base of the Palm. Time wise, you are located 8 minutes from downtown and 15 minutes to the Marina.
With a sprawling property offering direct beachfront access it is the perfect resort to enjoy a balanced adventurous city vacation mixed with relaxation on the beach. There may not be anywhere else in Dubai that offers perfect views of the Burj Khalifa paired with a direct sea view of the Arabian Gulf in the opposite direction. It's truly a tropical oasis in the heart of the city.
Luxurious Suites
The Four Seasons brand always exudes the finest standards of luxury in their suites and the rooms at the Four Seasons Dubai were top notch. With a sleek Arabic touch, the rooms were quite spacious with both an indoor an outdoor balcony space. The rooms are beautifully appointed with high ceilings and a modern finish, featuring rich pops of blues and greens throughout. The bathrooms are large with a beautiful soaking tub to enjoy a relaxing bath or a standing rainfall shower. The beds, as all Four Seasons, are exceptionally comfortable ensuring the highest quality of sleep. This was particularly a nice treat at the end of our month-long getaway.
Having seen both rooms with sea view and city view, both were quite beautiful. However, if I had to choose, I would go for the sea view room, just for the sunset view alone. Nothing beats the neon pink desert sunsets in Dubai.
(See a tour of the suite and property here)
Resort Amenities
The Four Seasons Dubai is full of incredible resort amenities making it difficult to want to leave the property. In addition to their amazing beachfront, they have two large pools that make for the perfect day by the pool. The poolside staff are very friendly and frequently come around with a selection of treats. They may even stop by just to clean your sunglasses, I loved that touch! Most of my days were spent lounging by the pool and enjoying the relaxing vibes. They also have a number of villas surrounding the pool that you are able to rent for the day. This way you are able to have your own place to hang out at next to the pool.
If that is not enough, they even have a floating dock off the beachfront that I liked to call "FS Island". It is only reachable by swimming out to it. The island is equipt with beach chairs, towels and a cooler full of water making it easy to hang out privately all day, in the middle of the sea! And if watersports are your thing, they have plenty of options for you at an onsite palapa offering everything from paddle boarding to jet skiing.
Aside from the outdoor amenities, the resort is home to the beautiful Pearl Spa, offering a range of treatments and massages that will leave you feeling totally relaxed and rejuvenated. The first morning following my arrival, I indulged in their signature massage, which was a wonderful treatment combining traditional Swedish massage methods with aromatherapy. It was the perfect way to begin my stay with Four Seasons. Next to the spa you will find their beautiful indoor lap pool and finally their 24-hour gym offering a wide selection of equipment and areas for private or personal training.
For any activities off-site, the FS staff do an excellent job of arranging the best options for you with the most trusted tour operators in Dubai.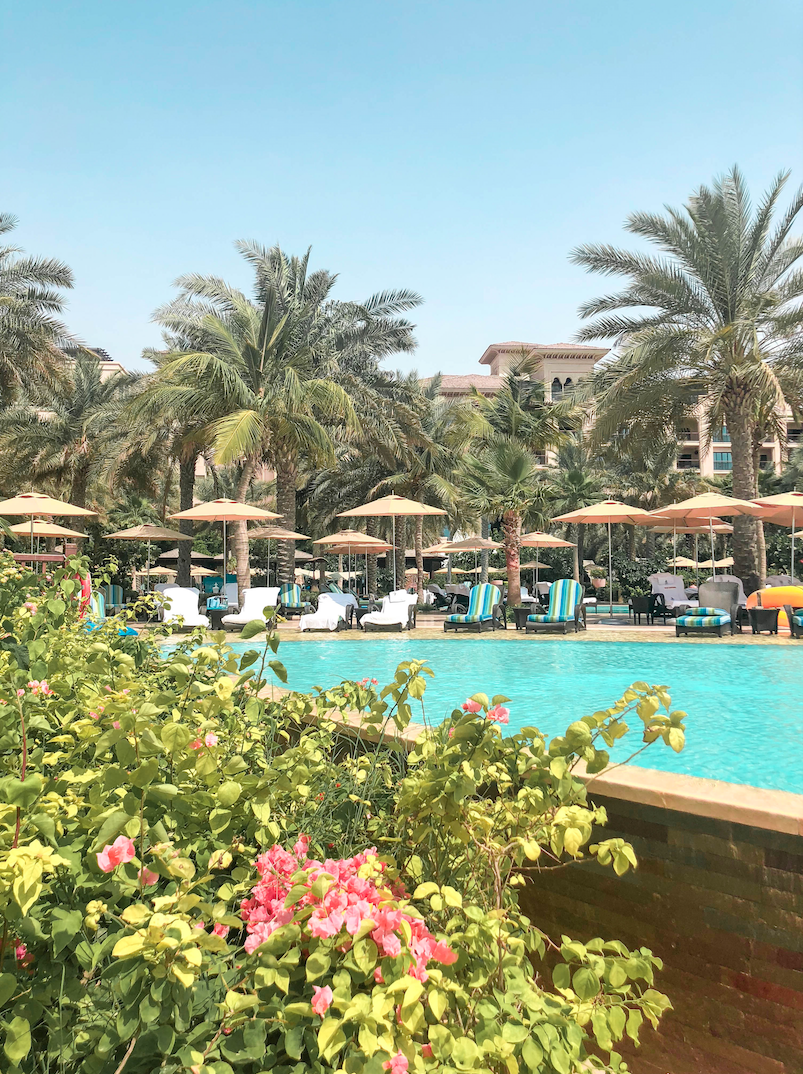 Dining at Four Seasons Dubai
Dare I say there are too many amazing dining options at Four Seasons Jumeirah Beach. Not only do they have their own fantastic restaurants on-site but they are also home to some of the city's top restaurants in their 'Restaurant Village'.
The resort's on-site restaurants include Seafu, their beachside Asian inspired seafood restaurant offering amazing views of the sea. SUQ, which is a market-style buffet offering many delicious options à la carte. This restaurant was especially my favorite as I was visiting during Ramadan and their Iftar dinner was among the best in Dubai. SUQ is also where you will find the breakfast buffet offering a wide range of hearty and healthy breakfast options. My favorite when traveling in the middle east is always the shakshuka eggs and labneh with pita.
In addition to Seafu and SUQ, they also have a dinner/lounge on the rooftop called Mercury Lounge. Mercury Lounge offers views of both the downtown skyline and Arabian sea. They serve Mediterranean style plates and the dinner vibe seamlessly transforms into dancing as the night progresses. I spent many nights up here enjoying the beautiful views along with the great music and laidback vibes.
As if there weren't enough amazing dining options already, Four Seasons Dubai is also home to some fantastic independent restaurants found right on-site. These include the famous Nusr-Et (aka. Salt Bae the famous Turkish Butcher from Istanbul) and COYA which offers unique Peruvian Inca-style fare with THE best ceviche I have ever tasted. And rumor has it there are also getting another famous restaurant on-site. It will be featured in a new beach club which will be managed by the famous Mykonos beach club, Nammos (how exciting!).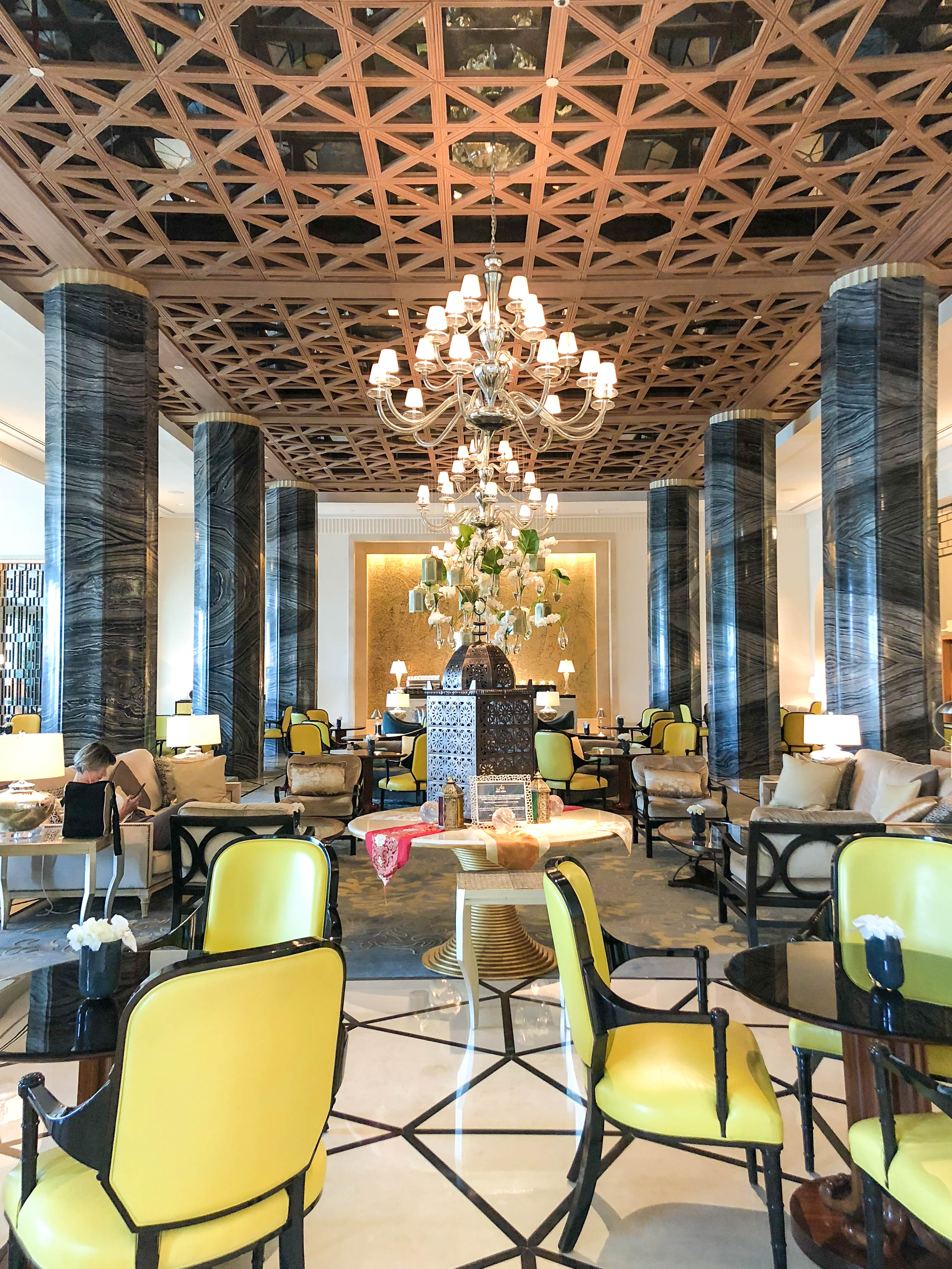 Impeccable Four Seasons Service
Last but certainly not least, this is what makes a Four Seasons hotel a Four Seasons – the exceptional level of service. I swear the staff are trained to never say no to a guest's request. They will do anything and everything in their power to ensure you have nothing short of a perfect and memorable stay.
On my last visit, I tried out their new-ish Four Seasons App. The app has a feature that allows you to be connected to them at all times via chat. Forget something from your room and you've already made it down to the pool, don't worry, they'll get it for you. Need your phone charged while your lounging on the beach, they have you covered. And no, I know what you're thinking, I did not send the staff around the hotel at my beck and call but it's amazing how willing they all are to be at your service and ensure your every need is seamlessly met.
Every member of the Four Seasons Dubai team was so friendly and pleasant to speak to. I truly loved how multi-cultural the team was and found it admirable that this Four Seasons property employed incredible people from all over the globe.
Overall, I had another unforgettable stay with the Four Seasons and already can't wait to return. Thank you Four Seasons for becoming my home-away-from-home in the fabulous city of Dubai!